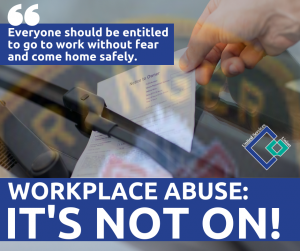 Last week four parking patrol officers were assaulted by members of the public in two separate incidents in the Liverpool CBD.
This is in addition to a number of other assaults and near-misses involving rangers, compliance officers, and parking patrol officers at Council's across Sydney.
The United Services Union condemns these cowardly acts of violence against our members and other employees of Councils.
"Everyone should be entitled to go to work without fear and come home safely" says United Services Union Metropolitan Manager Stephen Donley.
"At the end of the day these people are doing their jobs, and they simply shouldn't be subjected to threats of violence or verbal abuse. It is just not on" says Mr Donley.
The United Services Union has been contacted by Liverpool City Council to work with the Union to try and mitigate the risks to staff and to bring greater public awareness to the issue.
USU Reference Group:
If you have concerns please contact your workplace delegate, your USU Organiser or Our Support Team on 1300 136 604. The USU also has a Facebook Reference Group you can join at: https://www.facebook.com/groups/USURangers/