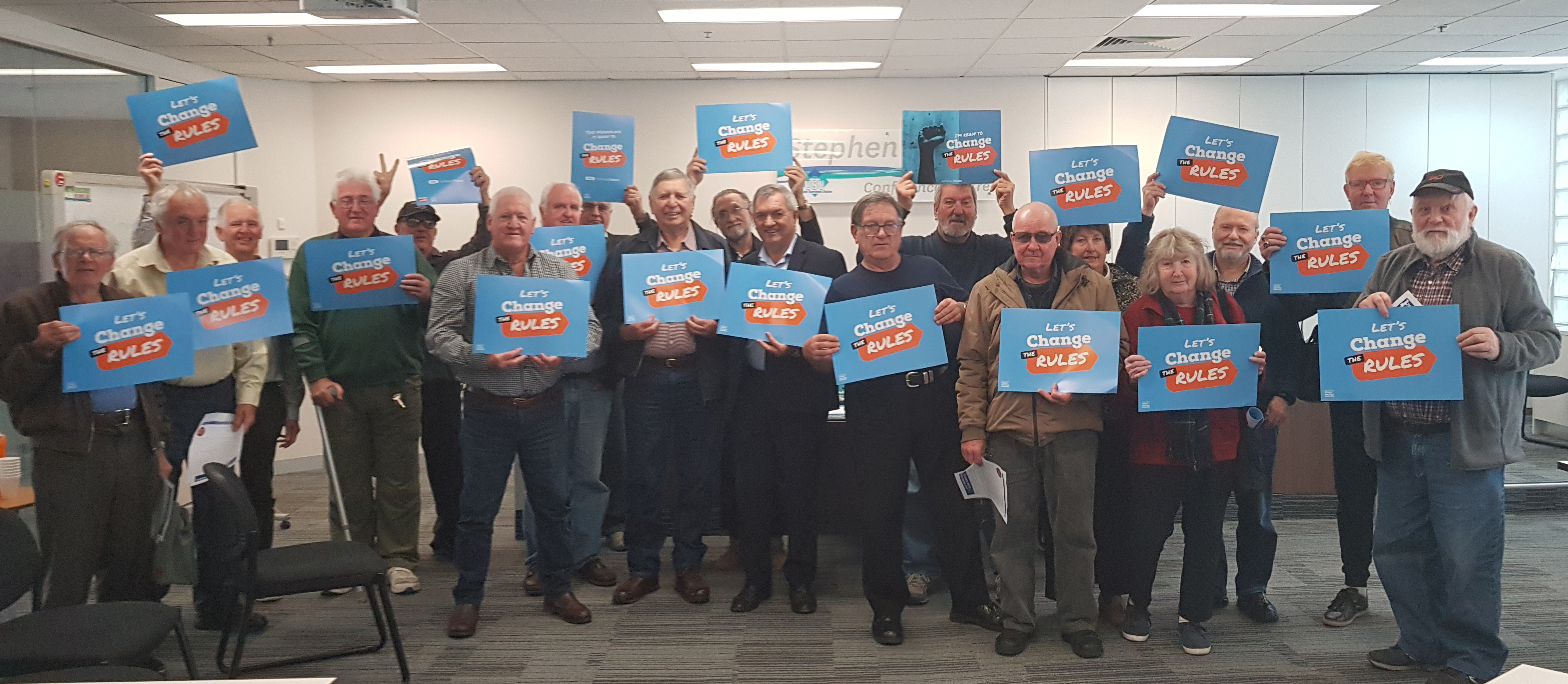 Your contribution to the United Services Union has been vital to the success of the Union and its fight for workers and their families. Your continued support of the Union is important to us and the General Secretary invites you to continue your participation with the Union through the USU Retired Members Club.
The Retired Members Club offers you many of the services available to USU members and enables the Union to have the benefit of your experience.
The Club is open to all long-serving members, employees and officials of the USU and we encourage you to join. Please read this brochure for more details on what your membership will deliver.
For more information about the Retired Members Club contact Joel Conomos at jconomos@usu.org.au
Download a copy of the Retired Members Club Information and Application form here
The Union's official journal – The official journal of the USU will be regularly mailed to you featuring union news with a focus on your industry.
Regular e-news bulletins -As a member of the Retired Members Club you will receive regular news and updates about union activities, campaigns and Retired Members events. Retired Members news will also be posted on the USU Retired Members webpage www.usu.org.au/retired-members/
Union Shopper providing discounted goods and services – You can save on anything. Decide exactly what you want to buy, call Union Shopper on 1300 368 117 and tell them the make, model and your best price. Union Shopper staff will hunt up the best price and arrange delivery. Find out more here.
USU rates at Riverside (formerly Aquatic), Port Macquarie: Stay in comfort at the USU's own holiday resort – enjoy great discounts at our combined motel and caravan park in one glorious location! Call Riverside on 02

6584 9155

. USU retired club members and their families can now take a break at the RTBU Holiday Park at Jervis Bay. Members of the USU Retired Members Club are entitled to member discount rates at the Riverside Resort at Port and at the RTBU Holiday Park at Jervis Bay (conditions apply). Visit

HERE

for more details and conditions.
USU Picnic Ticket (Metro members)
Legal Services from USU solicitors Carroll & O'Dea for the preparation of wills. Please phone the Support Team on 1300 136 604 or go to www.usu.org.au/free-wills/ to request a will.
USU accommodation rates at the Coronation Hotel 5-7 Park Street Sydney, phone: 92663100.
Superannuation advice: Access to USU trustees on the Active Super (formerly Local Government Super), EISS Super, CareSuper and legalsuper Superannuation Funds.
Member Benefits Program: Access to great savings through our Where To Enjoy program. As a member of the USU RMC you can receive fantastic benefits from local, national and international businesses. Visit www.wheretoenjoy.com/usunsw to start saving!
Call the Union on 02 9265 8211 for more details or for an application form or download an application form here.
The aim of the Retired Members Club is to foster goodwill and friendship amongst retired unionists and to provide the opportunity for long term unionists to access the benefits of union membership and to promote the cause of labour and unionism.
Membership of the Club is open to former members of the MEU, FCU and USU members who:
•    have five years or more of continuous membership with the union prior to their retirement or
•    are endorsed Life members or
•    are former employees or officials of the union having ten or more years of continuous service.
The Club Committee may accept written applications from those who may not meet the above criteria, but have made a significant contribution to the Union.