United Services Union members now have the option of holidaying at the USU's newly renovated Riverside Resort @ Port Macquarie (formerly Aquatic), or heading south to Jervis Bay at the Rail Tram and Bus Union Holiday Park. USU and RBTU members can now stay at either holiday location at discounted member rates.
USU members can enjoy great holidays at the Union's own Riverside Resort, located in beautiful Port Macquarie on the Hastings River. The resort consists of a Motel and a Caravan Park, so no matter what type of holiday you are after your needs are covered.
Lots to do any time of the year!
There are a lot of attractions in the area for you and your family – have a great game of Putt-Putt golf or try Jet boating, Parra Sailing, Waterslides, Wave Bowling & Lawn Bowls which are all within walking distance. And don't forget the fishing!Please note – there are no tent sites at the Port Macquarie Caravan Park.
You can contact the motel or caravan park by phone on (02) 6584 9155 or check the website at www.riversideresortatport.com.au
You can also call the Union's Head Office on 02 9265 8211 for more information.
Be in the ballot to stay during peak season!
To ensure all USU members get a chance to holiday at our Riverside resort during peak season a ballot is held each year. FIND OUT MORE HERE.
Take a break at Jervis Bay

USU members and their families can now take a break at the RTBU Holiday Park at Jervis Bay at special member rates!*
You could save hundreds while enjoying the beautiful swimming and fishing facilities this peaceful area offers. For more information visit www.rtbu-nsw.asn.au/holiday
* The RTBU site is NOT available in peak season – it is available from February until November. Members must provide proof of identity plus their USU membership card at the time of arrival or full rates will apply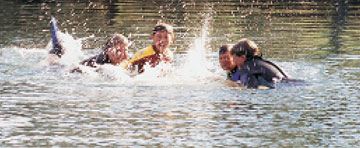 Relax by the water and take in the natural wonders of Booderee National Park. Modern two bedroom units with remote control TV and microwave ovens. Enjoy the fishing, swimming, snorkelling, boating or have a game of tennis, followed by an undercover barbecue.  Water on one side and natural bushland on the other. Take in the sights around Jervis Bay, or go on one of the many bushwalks and enjoy the natural flora and wildlife. Do a lot or do a little.