It is 100 years since women were first eligible to stand for public office in NSW, including for local government. A momentous event in the electoral history of our state!
Something you would think everyone in NSW Parliament could support. Unfortunately this is not the case.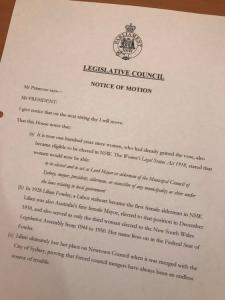 Today the NSW Liberal-Government members of the Legislative Council refused NSW Labor Shadow Minister for Local Government, Peter Primrose, from being allowed to move a motion recognising it has been 100 years since NSW Parliament passed legislation that enabled NSW women to stand for office in local government, and other public offices.
The motion read:
That this House notes that:
It is now one hundred years since women, who had already gained the vote, also became eligible to be elected in NSW. The Women's Legal Status Act 1918, stated that women would now be able:
to be elected and to act as Lord Mayor or alderman of the Municipal Council of Sydney, mayor, president, alderman, or councillor of any municipality or shire under the laws relating to local government
In 1928 Lilian Fowler, a Labor stalwart, became the first female alderman in NSW. Lilian was also Australia's first female Mayor, elected to that position in December 1938, and also served as only the third woman elected to the New South Wales Legislative Assembly from 1944 to 1950. Her name lives on in the Federal Seat of Fowler
Lilian ultimately lost her place on Newtown Council when it was merged with the City of Sydney, proving that forced council mergers have always been an endless source of trouble.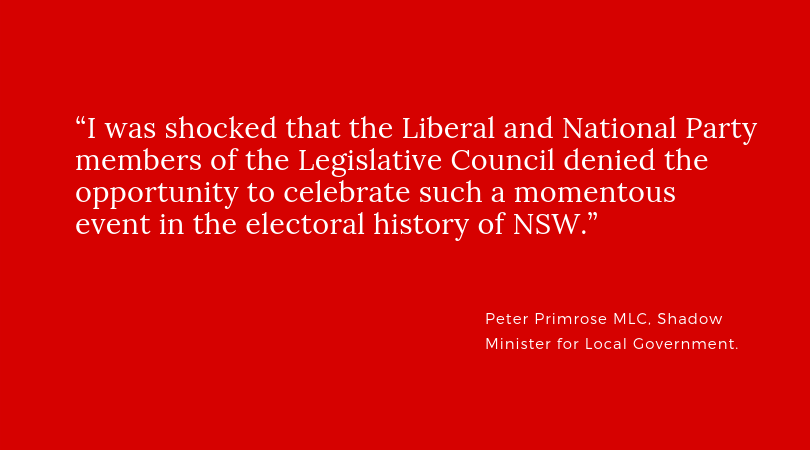 "At the recent Local Government NSW Annual Conference I saw how far NSW has come – it took 10 years from the introduction of the Women's Legal Status Act to the actual election of a woman to a council and 20 years for a woman to be elected mayor. And in 2018, it is now no longer uncommon for women to aspire to and achieve public office!"
Media Contact: Amanda McCormack 0402 003 342.