A life of service. That's how the Cootamundra Times described Glen McAtear in an article titled "Local Legend" published on 10 September 2020. At the USU we agree! Glen was elected President of the USU in 2019.
The Times article gives members some insight into what makes Glen tick and anyone who knows him will not be surprised to find the words service and justice peppering the article. Some of you may be surprised to find out he was in the police force, even more of you will be surprised that he has acting talent! But no one who knows Glen will be surprised to find out about his commitment to family, the community and his union. This is an excerpt of the article published in the Cootamundra Times.
---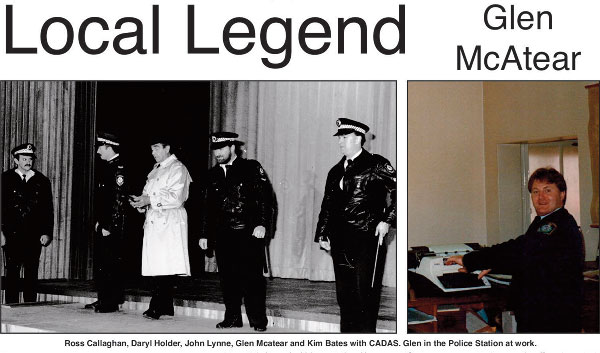 Anyone who knows Glen McAtear would be forgiven for thinking he is a born and bred Cootamundrian. His passion for Cootamundra is boundless and he has devoted his thirty five years in the town to giving back to the place that has embraced him and his family.
Listening to Mr McAtear speak for the first ten minutes, the former policeman and respected Coota local has had quite a life journey. During our chat on his rostered day off Glen's phone was constantly pinging and buzzing for his attention as a he is a manager for the Cootamundra Gundagai Regional council.
Since leaving high school at the age of fourteen years and nine months to commence a boiler making apprenticeship Glen has progressed through his life with great enthusiasm, frequently changing roles in search of a better life for himself and, eventually, his family. On completing his apprenteship Glen began training as a draftsman for Wormald and was involved in the plans for Centre Point tower and the massive lights at the SCG, to his years in the NSW police force, to opening his own 3-D paint shop in the main street of Cootamundra, to serving seven years as president of Cootamundra junior rugby league and to his beloved work with the Cootamundra Amateur Dramatic Arts Society, Glen McAtear is a man that devotes himself to each role with passion and enthusiasm. Currently Glen is the President of the United Services Union and Manager of Regulatory Service at Cootamundra-Gundagai Regional Council. 
Glen was a very active young man and he played plenty of cricket and rugby league, he is also a die-hard Penrith Panthers supporter and currently takes great pleasure in discussing his beloved team who are currently on top of the ladder, his wife advises she is extremely grateful for their success as it is currently making her life much better! His devotion is due to being raised in the western suburbs of Sydney in St Marys where he met his wife Janet at St Mary's High School when they were thirteen. Janet was born in Murrumburrah/Harden and raised in Tamworth and eventually moved to Sydney. Janet's birth place was one of the reasons Glen transferred to Cootamundra with the police force.
When Glen's best mate decided to join the force as well as Janet's father being a policeman, Glen thought he would give it a go himself. When he first signed up to the force, he had to go through the Redfern Academy which, according to him, was physically and mentally tough, Glen lost nine kilos during the tough twelve week training course. Glen said it was a deliberate way of testing your limits and the academy now based at Goulburn is very different today.
Glen worked on a number of major cases, including the trial of the Milperra bikie massacre in 1984 and was also part of the anti-theft squad, which was stationed in Penrith. As Glen continued recounting his police days in St Marys to me, he frequently mentioned how busy and intense his work would get, that on many days he would not get a chance for a meal break and when he did, it would have been in the truck in-between jobs.
Glen had a desire to go to the bush and in 1985 he was transferred to Cootamundra with Janet and their eleven month old son Brendan, their daughter Bridie was born in Cootamundra in 1986 in the old Cootamundra hospital, one of the last babies to be born there before the hospital was closed.
"Hated it," Glen said when I asked him what it was like in his first few months in Coota. "I was stationed at one of the busiest police stations in the city [St Marys] and then coming into a really quiet, relaxed and lovely town I struggled to slow down, ,but once I got used to it, Cootamundra was home to me, I'm never leaving Cootamundra," he said.
When Glen, Janet and their kids first lived in Cootamundra, they stayed on a farm 15km out of town, which they found at many times a struggle as they only had one car so Janet was left on the farm without transport or many opportunities to meet people. Moving in to town and joining Apex was a godsend for the family.
The greatest lesson Glen learnt during his years as a policeman in Cootamundra was to be part of the community and to become involved on every level. "In the city you were a policeman when you wore your uniform, but when you took it off, no one knew who you were," he said. Cootamundra policing was different, and it was more community-based, people knew who you were, they knew your family and you often had social events with people that you had dealt with at work."
He described the early days of acclimatising to his new surroundings as having his guard up all the time, he thought everyone hated him as a policeman as that was how things were when he worked in city policing. "But once I got out of the rut, I wouldn't want to work anywhere else," he said.
Glen mentioned a key difference to policing in St Marys and in a small town like Cootamundra, is getting to know people. "Certainly there were times it wasn't all beer and skittles. What was very different is when you had to attend to something distressing, violent or tragic was that a lot of the time you knew that person," Glen said. "That could be difficult as a policeman as it becomes more personal. You go to fatal accidents, you may know the person in it or domestic disputes where you may know the people that are involved."
One of the best memories he had of his time at the Cootamundra Police Station, were the officers he worked with and the social work he did outside hours. During Glen's days, the station would have a 'Blue Light Disco' social function once a month where family members were encouraged to attend too. Glen has fond memories of being on the committee that ran the popular Blue Light discos and to also taking on coaching Junior League teams. Glen was eventually voted in as president of the Junior Rugby League club and was involved in the start of the building of the excellent amenities at Nicholson Park. The whole committee worked tirelessly to provide for the junior teams throughout the nineties. Glen reminisces that those years were some of the best times for the entire family and a wonderful way to make good lifelong friends in the town.
It was during these years that Glen found his true passion, acting. He was asked to appear on stage in a CADAS production along with Daryl Holder, Kim Bates and Ross Callaghan, they were to appear in their police uniforms as a surprise to actors and audience alike. Their appearance brought the house down and Glen was hooked! Glen has appeared in a variety of CADAS productions and was even nominated for best actor in the regional CATS awards and performed at the Canberra Theatre on the awards night. Glen, however, enjoys working with the CADAS Kids and has been in almost all of the production over the years. He jokes that people in town might think he likes to cross dress as he is commonly cast in the role of the dame in a lot of the productions and has a wardrobe full of giant bras and huge high heels! Glen has enormous respect for Jenny Roberts who has tirelessly run the CADAS kids for many years and has helped local kids find their voice, grow in confidence and learn disciplines that have helped them immensely as adults.
After12 years in The Police Force Glen was to be transferred back to Sydney. Glen's life was in Cootamundra so he made the painful decision to resign from the police force in order to raise his two children in Cootamundra. Glen was offered the opportunity to start a paint shop in the town, he took on the challenge and quickly gained a reputation for good prices, great range and a wonderful place for tradies to come and have a cuppa. Glen eventually expanded the business to include gyprock sales which allowed builders to keep it local as well. Glen eventually sold the business and commenced working for Cootamundra Council.
Glen has always been a staunch believer in unions and joined the United Services Union when he commenced at council. He quickly rose through the ranks of council as well as the union and is now a manager at council and the NSW president of the United Services Union (USU). The union has over 30,000 members throughout NSW and Glen is also privileged to sit on the National executive of the union, the Australian Services Union (ASU). Being President of the Union puts Glen in Contact with workers across the state, nationally and internationally. Worker's rights and conditions are at the heart of Glen's passion for unions and he volunteers his time in the pursuit of fair working conditions for all his members. "Unions are not like they were in the old days, years ago workers had to fight hard for the conditions that all of us enjoy today, without Unions we would not have annual leave, sick pay and superannuation just to name a few things."
Glen said, "Most of the issues that Unions have now are retaining the conditions that our ancestors fought hard for.  I don't want to have to see my grandchildren having to fight for basic working conditions, I would just like my legacy to be that I left the place no worse off than when I walked in the door, in my position as President I am in a great position to do my best to leave this legacy".
Life is busy for Glen but his family is the most important aspect of his life. He is very proud of his son and daughter who have chosen to devote themselves to helping others, Brendan working in the NDIS industry and Bridie furthering her studies to enter the health industry as a councillor, she has also recently completed training as a Lifeline volunteer in Canberra. Glen is also proud of his wife Janet who shares his passion for Cootamundra and chairs the Cootamundra Development Corporation, she sees the role of the CDC as a vital tool to help businesses to grow and improve through strength in unity, training and through organising special events such as Wattle Time, Business awards, Shop local promotions and the Christmas fair. Glen also loves nothing better than spending time with his three grandchildren Brock nine, Marli seven and Leo three. Having the kids living in Cootamundra is a great privilege and he hopes that they have as wonderful an upbringing in Cootamundra as his children had. Having lived in the city Glen understands how special living in a country town truly is. The lifestyle in Cootamundra is idyllic and Glen is a great ambassador, taking every opportunity to extol the virtues of the town, his favourite saying in regard to Cootamundra is that it is "where God goes for his holidays". Glen has recently organised a union conference for Cootamundra which will bring much needed business to the town. He went to bat with the executive highlighting that Cootamundra is a very safe option during this Covid-19 crisis and that the town has everything available to facilitate an excellent, professional conference.
First published in The Cootamundra Times • 10 September 2020