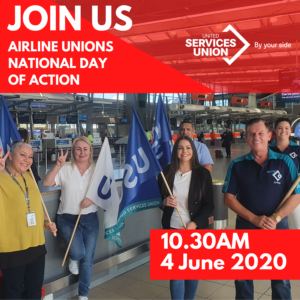 Airlines employees who work at Sydney Domestic Airport, there will be a campaign event and photo opportunity at Sydney Domestic Terminal 2 check-in on Thursday June 4, 2020.
Organisers will be present from 9am onwards, invited speakers will address the rally at 10:30am.
**** Airlines members: Check your emails.****
PRACTICE SOCIAL DISTANCING AND KEEP SAFE
We have a National Day of Action for all airlines members of the United Services Union this Thursday June 4, 2020.
From 9am onwards the USU will have organisers attending to listen to members' concerns, take queries and we will be asking members to pose for campaign selfies.
The invited speakers will address the rally at 10:30am, but those who are already there early are welcome to raise their issues with organisers.
We have a variety of current campaigns:

Save Australian airlines, support regional airlines, protect members EBAs, fix Jobkeeper and keep Australian jobs! (and more)
Get involved, get active – visit the USU and ASU websites and check your emails and text messages.
We will be taking photos of members and welcome representatives attending to address the rally.
PLEASE PRACTICE SOCIAL DISTANCING and all other measures recommended by the government medical advice to prevent the spread of infection. Stay at least 1.5 metres apart at all times.
For those with medical reasons who need to avoid crowds, there will be opportunities to take part from home, stay tuned for invites to online forums for airlines members.
For more information contact USU Organiser Thomas Russell on trussell@usu.org.au