After almost a year of hard work and lengthy negotiations and conciliation in the NSW IRC we took the new 2017 Local Government Award package to members for a vote at over 367 meetings held across NSW between June 7th and June 28th.
Members had their say with a record 98.98% voting YES to the new Award which delivers guaranteed wage increases over the coming three years.
Your new Award also maintains or improves all of your existing conditions. In the current climate where many workers are being forced to give up their conditions this is a remarkable achievement and something to be proud of!
During the hard-fought negotiations every aspect of your Award – including some of your most basic working conditions – was targeted by Local Government NSW.
Every single condition was maintained – or improved! Our website has a full summary of the changes to the Award, including the current draft of the Award which was ratified by the NSW Industrial Relations Commission today.
The Award delivers guaranteed wage increase over the next three years. The first increase of 2.35% (or minimum $20.40) commences from the first full pay period on or after 1 July 2017.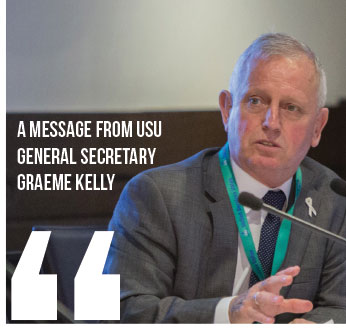 This vote is our strongest one yet. Since becoming USU General Secretary we have successfully negotiated three awards with each one overwhelmingly supported by our members; 97.55% in 2010, 95.58% in 2014 and now a massive 98.98% support.
I am proud that every member has a say in their future through our mass meetings. This support is a reflection of the great work that we all – as a union – do.
Each member, delegate and official played their part in this process. This is your win and I congratulate you all.