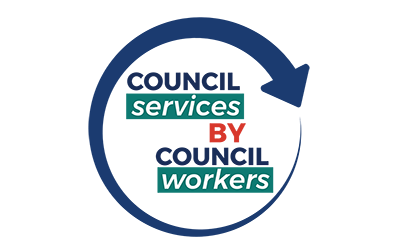 We have launched our Council services by Council workers campaign to shine a light on the overuse of contractors in local government and to protect your job into the future. With your help we hope to turn the tide against the growing insecurity in local government by opposing the unnecessary outsourcing of Council jobs.
---
TELL US WHAT YOU KNOW:
Take note of what services your Council contracts out and help us take a stand against this scourge on our industry.
If you witness or are aware of any inappropriate use of contracts or outsourcing we encourage you to anonymously report it here.
---
Councils should be providing secure local jobs where quality of work and pride in one's job is the priority. While the use of contractors may be necessary for a specific project or where specialist skills are required, in most cases the work being completed could be done more easily, affordably, and to a better standard by council employees.
Contractors are in this business so they can make profits and financial benefits out of our industry, profits in most contracts are leaving our Shires and Municipalities and not contributing to our local economy.
Our multi skilled workforce including apprenticeships are suffering and its time we say "Enough is Enough".
The unnecessary contracting out of work needs to stop. We are not looking for a short term fix, instead we want permanent change to the culture of local government. We want to return security to local government employment by protecting Council services by Council workers.
We have written to your Council asking simple questions about their use of external contractors, and are now asking for your support to help spread the word about our Council services by Council workers campaign.