While Councils across the Sydney metro area and NSW adopt Paid Family and Domestic Violence Leave, Hornsby Council has rejected it.
Family and domestic violence affects working people every day. Whether directly or indirectly, family and domestic violence is a workplace issue, and it is a union issue.
That is why the USU has spent the past year campaigning for employers to make Paid Family and Domestic Violence Leave available to their employees.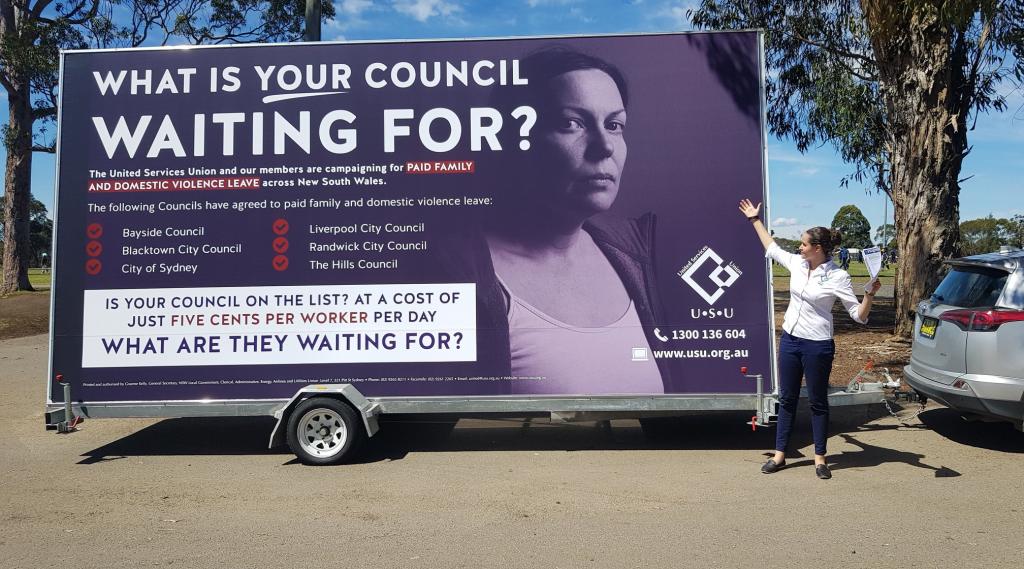 Recently USU Organisers Zoe O'Rourke and Shane Pinter took our campaign trailer on the road around the Hornsby Council area to get the message across that Hornsby Council has rejected Paid Family and Domestic Violence Leave.
In the Sydney metro area the following Councils have already agreed to the leave:
Bayside Council
Blacktown City Council
City of Sydney
Liverpool City Council
Randwick City Council
The Hills Council
with more coming on board as we continue our campaign.
According to USU General Secretary Graeme Kelly this issue can no longer be considered a "non-employment" issue.
"This is a workplace issue. When a victim of domestic violence needs to leave an abusive relationship that impacts on their employment in so many ways. The need for paid leave and other workplace provisions to support that worker is as fundamental as other entitlements," said Graeme Kelly.
"The decision by the FWC earlier this year to grant 5 days unpaid leave is absolutely inadequate.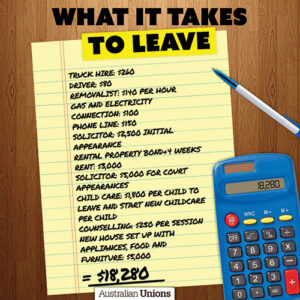 "Even if you disregard the personal support a victim needs in the workplace, the costs of leaving an abusive relationship and finding a new, safe place to live, costs, on average, $18,280 and takes 141 hours," explained Graeme.
No worker should have to choose between keeping their job and keeping their family safe. We need ten days paid leave as a minimum.
Having paid leave can often be the difference that allows someone to leave a violent situation.
More information about the Australian-wide campaign can be found here: https://www.australianunions.org.au/wewontwaitdv