Your Union has taken our 'Vote No' campaign to Canberra.
We met with Federal politicians and discussed Virgin's aggressive campaign to push through a non-union Enterprise Agreement.
From March 2020 to August 2021, Virgin Australia received approximately $1.4b in taxpayer support. The funding was important to ensure workers received an income during the border closures and the most unstable period of the pandemic. The USU/ASU advocated heavily for the funding because it was in your interest, but now Bain Capital is preparing to float Virgin Australia on the ASX and is expected to make $730 million in the process.
It is unacceptable that an Airline that received significant public funding does not return goodwill to its workforce but proposes to cut entitlements before the Airline is floated on the market.
We thank the following MPs and Senators (pictured below) for listening to our concerns and supporting USU/ASU members.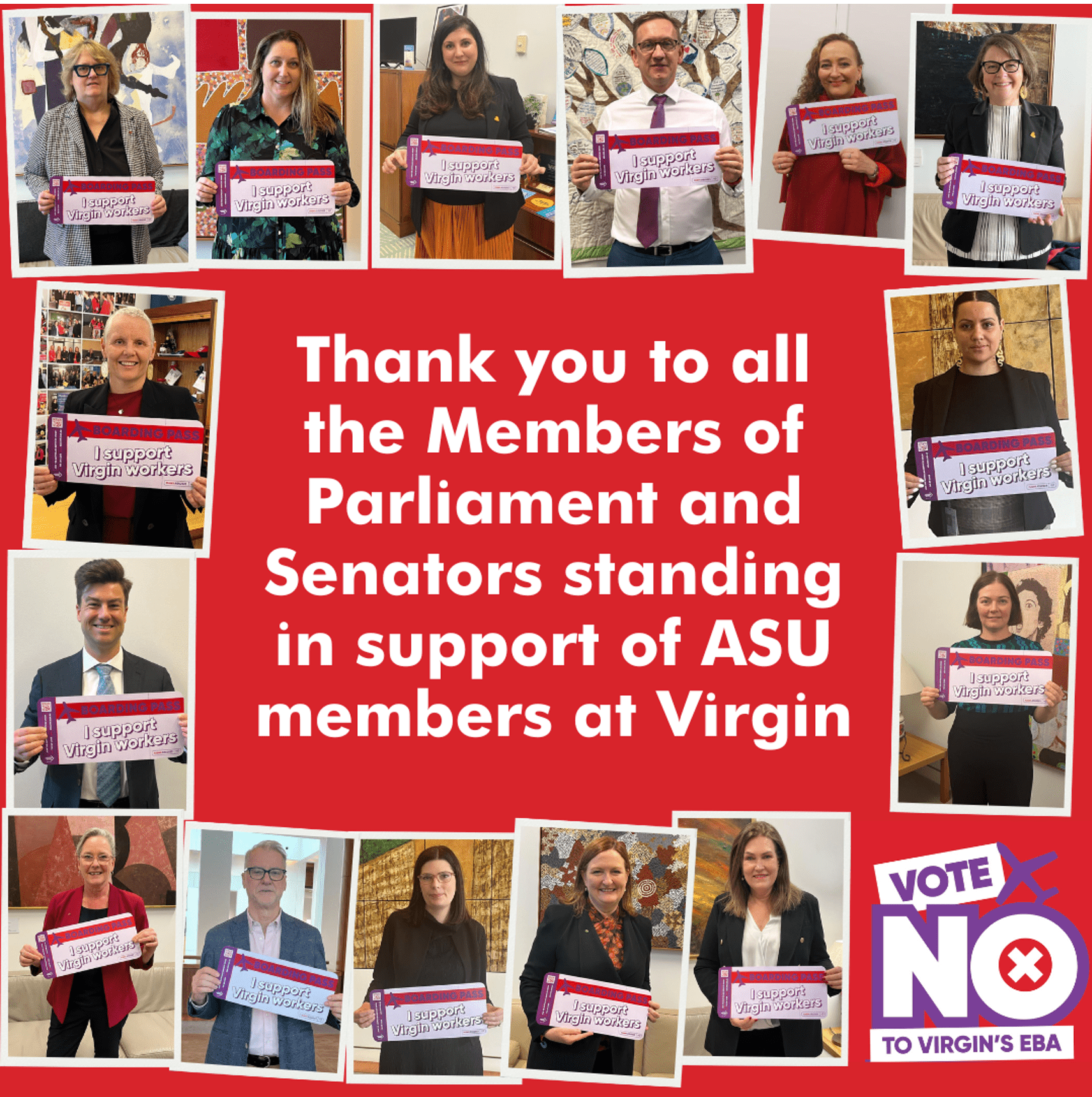 From left to right
Linda White, Senator for Victoria; Emma McBride, Member for Dobell; Carina Garland, Member for Chisholm; Julian Hill, Member for Bruce; Mary Doyle, Member for Aston; Ged Kearney, Member for Cooper; Peta Murphy, Member for Dunkley; Jana Stewart, Senator for Victoria; Sam Rae, Member for Hawke; Lisa Chesters, Member for Bendigo; Karen Grogan, Senator for South Australia; Tony Sheldon, Senator for NSW; Marielle Smith, Senator for South Australia; Louise Miller-Frost, Member for Boothby; Deborah O'Neill, Senator for NSW
USU/ASU members are campaigning to 'Vote No' to Virgin Australia's proposal to cut your pay and conditions.
If you are not already a member, now is the time to join. You can join online here: https://www.usu.org.au/join.
For more information contact USU Organiser Peter Munford at pmunford@usu.org.au or 0417 420 924.