The votes are in and we are pleased to confirm that Maurice Blackburn and Zabulon staff have emphatically endorsed the EBA. 97% of those who voted, voted in favour of endorsing  the agreement.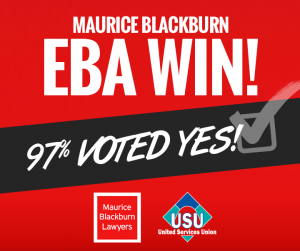 What next? 
This endorsement means that we can now proceed to completing the paperwork necessary for the agreement to be approved by the Fair Work Commission (FWC).
As there is an expected delay of processing at the Fair Work Commission of up to 8 weeks the firm has agreed to pay back pay ahead of the FWC approval.
The firm agreed to make back-pay payments for the first full pay period commencing on or after the day of the declaration of the vote i.e. today!
Time to claim your health & wellbeing pay  
The agreement also provides that eligible staff can take one health and wellbeing day before the end of calendar year 2016.
These days can be taken from today. This is a hard fought for and won new entitlement negotiated by your union so make sure you take the opportunity to access this day before the end of the year. Our advice is apply now for your day.
Details of your entitlements are in clause 27.11 of our agreement.
Top work team  
This agreement and the results would not have been possible without the hard work of your USU/ASU national negotiating team of delegates supported by other USU/ASU delegates and of course members who fought a hard campaign but achieved significant improvements in the agreement because of their unity.
Now more than ever this agreement proves there is strength in being union!
Got a question?  
If you have a question, don't hesitate to contact your USU/ASU Organiser Joel Conomos on 0429 779 587
Not a member – here is how you can join  
Now more than ever it is time to join the USU/ASU – you can join the USU/ASU on line at www.usu.org.au/join