Monday 13th February 2017 will be the 39th anniversary of the Hilton bombing. At about 12.40am on Monday 13 February 1978, a bomb hidden in a public garbage receptacle was unwittingly placed into the back of a garbage truck when the rubbish was emptied. It exploded inside the truck, outside the Hilton Hotel in George St, Sydney, instantly killing the two garbage men Alec Carter and William Favell going about their job at the back of the truck. The Late Constable Paul Birmistriw, stationed at the entrance of the hotel for the Commonwealth Heads of Government Regional Meeting (CHOGRM), died 9 days later of his injuries from the bomb blast. Former Constable Terry Griffiths was seriously injured and left the NSW Police Force 'Hurt on Duty'. Australian Prime Minister Malcolm Fraser & twelve foreign leaders were staying at the hotel at the time of the explosion.
To pay tribute to those lost and their families a memorial will be held at 10am on Monday 13 February 2017.
Members of the United Services Union (USU) will join the NSW police, family and friends at the memorial and to lay a wreath at the memorial to the men.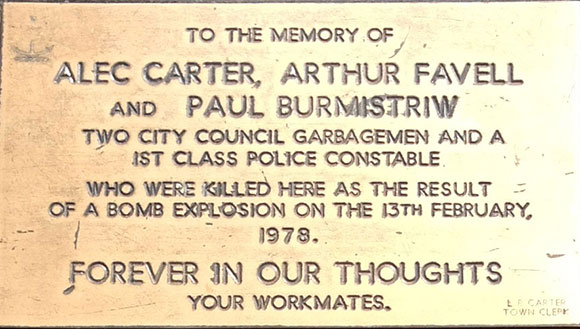 USU General Secretary Graeme Kelly said Mr Carter and Mr Favell were known to be "larrikins" and "dedicated family men". "These men were just doing their jobs and were taken from their families and friends and by remembering them each year we honour them. At the time of the tragedy the (then) Municipal Employees Union set up fundraising and trust funds to help the young families. By continuing to pay tribute each year we are saying – we will never forget."
Those responsible for the bombing have never been found.
DETAILS OF THE MEMORIAL
10.00am – Monday 13 FEBUARY 2017
STATE ROOM – HILTON HOTEL – 488 GEORGE ST, SYDNEY NSW
10.00am – National Anthem – Salvation Army Staff Songsters (SASS) & Audience
10.02am – Acknowledgment of Country – Graham Merritt
10. 04am – Welcome & Apologies – Gary Raymond APM, OAM
10.10am – Slide Show – accompanied by SASS "The Lord's My Shepard"
10.15am – Hon. Gladys Berejiklian MP, Premier of NSW (to be confirmed)
10.18am – Hon. Luke Foley MP – Leader of the Opposition NSW
10.21am – Commissioner Andrew Scipione AO, APM
10.25am – Abide with Me – SASS & Audience
10.30am – Councillor Angela Vithoulkas – City of Sydney
10.33am – Gen.Secretary Graeme Kelly & John Hickson – United Services Union
10.40am – Sen.Const.Terry Griffiths (Ret'd) (bombing survivor)
10.43am – Walter Birmistriw (brother of the late Const. 1/C Paul Birmistriw)
10.46am – Scripture Verse – Matthew 11:28
10.47am – Message of Comfort – Ch. Insp. Gary Raymond APM, OAM (Ret'd.)
10.52am – Amazing Grace –  SASS & Audience
11.00am – Close in Prayer – Move to outside the front entrance to Hilton
11.10am – 11.30am – Wreath Laying Ceremony – SASS to sing  
MC Sen/Sgt Paul Wynne (Ret'd) – State Treasurer Retired Police Association NSW.