Bargaining Meetings
As you may be aware, the HCF Enterprise Agreement 2016 will expire on 30 June 2018. On Thursday 29 March 2018 the USU received notification from HCF of their intention to commence bargaining.
The USU bargaining committee and HCF had the first of many meetings to discuss the Enterprise Agreement, on Thursday 12 April in HCF's Sydney Office.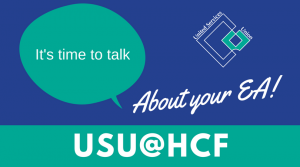 A schedule of meetings was agreed to, weekly until the end of June:
Time: 10am-4pm
Location: HCF House
• Tuesday 15 May 2018
• Thursday 24 May 2018
• Tuesday 29 May 2018
• Tuesday 5 June 2018
• Wednesday 13 June 2018
• Tuesday 19 June 2018
• Tuesday 26 June 2018
• Thursday 28 June 2018
On the 12th, HCF presented us with their intentions for the negotiations, as well as their log of claims, which will be made available shortly.
So that we may formulate our own Log of Claims, HCF have granted paid time meetings for staff to attend. The USU will be on site for sessions as follows:
1. Monday, 30th of April – St Leonards – 9:30am to 10:00am
2. Monday, 30th of April – Sydney – 1:00pm to 1:30pm
3. Wednesday, 2nd of May – Parramatta – 10:45am to 11:15 am & 1pm to 130pm
4. Thursday, 3rd of May – Sydney – 9:30am to 10:00am
The purpose of these sessions is for members to contribute to the log of claims and for bargaining representatives to be endorsed.
Invitation to attend these sessions is open to all financial members of the USU. The invitation is open to non-members who wish to join the USU – application forms will be available on the day.
Prior to the information sessions, USU Official Emily Callachor will be on site at each location to discuss with members their concerns generally and to obtain feedback on the current Enterprise Agreement
The dates of these visits to be advised separately.
Bargaining Committee
To assist in EA bargaining, the USU sought nominations from the membership to participate in the HCF Enterprise Agreement (EA) bargaining committee, to represent the views and opinions of their workgroups and colleagues.
Your Enterprise Bargaining Committee is:
SYDNEY
• Glynnis Ann Ferret (Processing & Resolution Officer)
PARRAMATTA
• Rebekah Tong (Member Care Consultant)
• Nadasha Tuwhakaraina (Retention)
We will keep members updated with the EA as it progresses.
This is an excellent opportunity for non-members to join their union as the more members we have, the greater bargaining power there is. Employees wishing to become a member of the USU can do so by completing the attached application form or online here.
USU Official – Emily Callachor 0417 420 924 ecallachor@usu.org.au