Power unions have demanded that the new owners of a controlling stake in Australia's largest electricity distribution network, Ausgrid, commit to a legally binding agreement that ensures existing employment numbers and service standards are retained at the privatised business.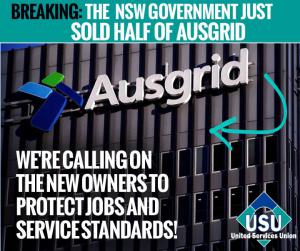 Their demand follow today's announcement by NSW Premier Mike Baird and Treasurer Gladys Berejiklian that AustralianSuper and IFM Investors would take 50.4 per cent ownership in the company, delivering a one-off windfall of $6 billion to NSW after debt is repaid.
The Electrical Trades Union and United Services Union, which represent the majority of Ausgrid workers, will also continue their work with Christian Democratic Party leader Fred Nile to deliver water-tight job protections through the NSW Parliament.
"We are continuing to work with Fred Nile and others in the NSW Parliament to ensure ironclad laws are in place to protect the jobs of Ausgrid workers and service standards for consumers under private ownership," ETU secretary Steve Butler said.
"This process is particularly important given Ausgrid management have previously flagged their intention to test the legal standing of existing protections through the Fair Work Commission.
"We are also demanding that the new owners, AustralianSuper and IFM Investors, publicly commit to retain all existing workers, to abide by the five-year job guarantees negotiated by the parliament prior to this sale, and to maintain the high standard of service that Ausgrid customers currently receive."
USU general secretary Graeme Kelly said the unions would be writing to AustralianSuper and IFM Investors seeking an urgent meeting to discuss staff protections and the future operations at the company.
"Electricity distribution is a natural monopoly," Mr Kelly said. "That means that if service standards drop, if maintenance is reduced or emergency response times blowout, consumers have no ability to choose an alternative supplier for their power.
"That is why unions have fought against this sale from day one, and why we will continue to fight to ensure the best possible outcome for workers and consumers going forward.
"Today's announcement will not see us back away from our commitment to protect the jobs of our members and the services that Ausgrid provides to the people of NSW."