Welcome to 2020. This is a very important year at the Greater Bank as your current Enterprise Agreement has a nominal expiry date of 30 June 2020.
FAIL #1
Late in 2019 it was brought to the attention of the Union that the Greater Bank had made a firm decision to introduce major workplace changes directly impacting members. The issue is that under clause 37 of your EA, the Greater has an obligation to consult regarding major workplace change. They must notify those effected, discuss the changes and listen to consider any issues raised in relation to the proposed changes. Members have told the Union that they have failed to do this in any meaningful way.
FAIL #2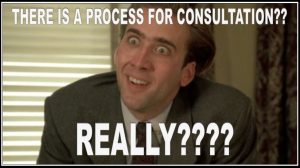 On the pretence of making staff available to concentrate on the introduction of the planned changes the Greater have also been seeking employee support to roll over the current EA for an additional year. Under the Fair Work Act the Greater is also obliged to notify and consult with the Union around any proposal to alter the EA. To date they have failed to do so. Apart from a non-specific letter stating they were going to survey the staff they have to date not provided the union with any documentation regarding this proposal. Your Union has written to Greater Bank's senior management requesting detailed documents outlining the scope and projected impact of the proposed changes as well as any offer they have in relation to the additional year roll over of the EA. This latest episode demonstrates the importance of having workplace delegates.
Currently there is only one delegate in the Northern region and none in the South. If you are interested in becoming a workplace delegate please us know. This is a great way to support and represent your colleagues. All training is provided and you will be fully supported by your local Organiser. Your Enterprise Agreement along with your contract are the two most important documents that impact your working life. Your contract outlines the nature of your employment and your Enterprise Agreement contains all of your workplace rights and responsibilities. It effectively sets all the rules that govern the relationship between employee and employer.
In 2020 it has never been more important to Join Your Union.
The USU is the Union standing up for your interests with the Greater Bank. Our focus on you is absolute. If we do not join together then senior management can simply dictate terms and everyone suffers. When the time for bargaining comes around your Union will compile your claims and before bargaining starts we will provide an opportunity for members to discuss all the ideas and finalise what your representatives will take to the bargaining table. Together we are stronger and together we can even out the playing field to have a real say in determining pay and conditions. Become a Workplace Delegate or talk to your Union Organiser about membership today.
Your United Services Union Organisers are: Wollongong (Southern) – Mick Jones 0450 020 589 email mjones@usu.org.au & Newcastle (Northern) – Paul Sansom 0409 076 633 email psansom@usu.org.au