That's right the NSW government has tipped more than $1.4 billion into the pockets of private consultants and spent almost $500 million on its temporary workforce since coming to power in 2011.
Meanwhile the government's budget:
means the public sector will have to find about $1.6 billion of savings over the next four years,
failed to increase health funding to keep pace with population growth,
promised new educators while cutting TAFE spending by 1.4 per cent,
committed no new money to women's programs to prevent domestic violence and sexual assault including women's refuges, shelters and counselling services,
continues to underfund mental health services,
took no new steps on housing affordability and homelessness.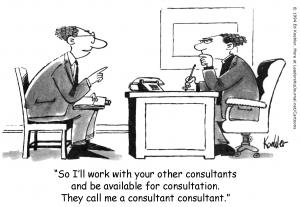 The NSW government has reduced the size of the public sector workforce for five consecutive years but pays $1.4 billion into the pockets of consultants to tell them what they want to hear!
"You pay for the answer you want, regardless of the truth. Any report that is handed down, whether it is into stadiums or transport [policy], it buys them secrecy," said Labor's finance spokesman Clayton Barr.
According to USU General Secretary Graeme Kelly this has directly impacted on USU members and their families: "How can any of us forget the report by KPMG into council amalgamations which was used to justify statewide council mergers?"
The Sydney Morning Herald reports that according to the data, KPMG was paid $400,000 by the Department of Premier and Cabinet for a contract listed as "local government reform".
The government refused to publicly release the report in its entirety, claiming public interest immunity. It subsequently spent millions of dollars fighting numerous councils through the NSW court system, before abandoning the unresolved mergers in February last year.
"This policy alone has caused widespread uncertainty to our members and their families while consultants get paid millions!" said Graeme Kelly.
"The NSW Liberal/National government also sold off our electricity making billions, only to be squandered on their big end of town business mates. Now NSW has some of the highest prices for electricity in the world, massive job cuts have decimated the energy industry with thousands more jobs to be made redundant in 2020," added Graeme.
Meanwhile, according to the Public Service Commission, the NSW public service has shrunk annually for the last five years.
The government needs to explain how spending over $1.4 billion on consultants to tell them what they want to hear is acceptable.
They need to explain how that is a better use of tax payer money than keeping women's refuges open; providing a well funded TAFE; ensuring more social and affordable housing; or protecting jobs.
Let's just hope they do not spend millions of dollars on a consultant to tell us why they need to spend more on consultants!