This is a commonly asked question so why don't we look at some of the facts for our members working in Local Government!
The conditions you currently enjoy:
Long Service Leave. The NSW Local Government (State) Award which your union negotiated, provides for Long Service Leave accruals well in excess of those contained in the Long Service Leave Act which the overwhelming majority of workers who are not covered by your Award receive. (CHECK OUR TABLE BELOW TO SEE WHAT A DIFFERENCE THIS MAKES!)
Hours of Work. The USU campaigned successfully in the past with other Unions to reduce the standard normal working week from 40 hours to 38 normal hours for outdoor workers and 35 hour normal hours for indoor workers per week.
Rostered Days Off and Time in Lieu.
Penalty Rates.
Sick Leave. 3 weeks per year of service for sick leave which is well above the average of 8 to 10 days per year that most workers receive as well as sick leave continuing to accrue each year if not used.
Carer's Leave.
Paid Parental Leave.
Annual Award Pay Increases. Many public sector and private sector workers do not receive regular annual increases.
The conditions listed above and many more contained in your Award did not just happen. Many of these conditions were opposed by some of the hardline employers and their representatives and often come under attack from these same hardline employers and their representatives when we renegotiate the award every 3 years. All of these conditions were fought for and won by YOUR Union.
SO WHY JOIN THE UNION?
When considering joining or belonging to the Union several factors regarding the actual cost of Union membership should be factored in. If you take a few minutes to read this article you will see it pays to belong!
WHAT DO I GET FOR MY MONEY?
Most people only look at the weekly fee – currently 2018 rates for full fees are between $10.24 for non- metro picnic ticket USU members and $10.58 for metropolitan USU picnic ticket members.
Note; this does not include any local or regional branch picnic levy where the picnic fee is added to the fees and then reimbursed to the local picnic committee to fund the picnic. This allows the picnic payment to be tax deductible.
Picnic Day
The NSW Local Government (State) Award provides the right to Union members for a Union Picnic Day each year which currently provides (for example) a worker employed at Band 1 Level 3 entry level (not including relevant allowances) a day's paid leave of at least $178.36 (as at the first pay period after the 1/7/18).
By taking this into account the additional paid holiday offsets the cost of the Union's annual fee by at least one third for the lower paid workers and much higher amounts as you progress up the award pay scales and when you factor in that Union fees are tax deductible this further offsets the cost to the Union member by approximately another third. Find out more here.
Journey to work insurance
In addition to the above the USU provides our members with Journey Claim insurance at no additional cost. If an individual member sought to take out their own Journey Claim Insurance they would likely be paying an amount which could exceed the cost of their Union membership fees without the added benefits.
The USU acted swiftly to provide protection for travel to and from work for our members by taking out Journey Claim Insurance when the then newly elected NSW O'Farrell-led Coalition Government reduced access to Workers Compensation for the vast majority of workers in NSW using legislation.
We have fortunately been able to provide to various USU members and their families much needed support and financial assistance when members have suffered injury or even death when travelling to and/or from their work. Find out more here.
USU Mortality Fund
The USU provides support of $2500.00 to assist in covering the cost of a funeral when eligible members pass away. Find out more here.
Great holiday discounts
USU members receive significant discounts on the cost of accommodation when they take a holiday at the Union's Riverside motel and caravan park resort located on the river on Hastings River Drive at Port Macquarie as well as from an arrangement we have for our members if they choose to stay at the resort at Sussex Inlet owned by a fellow union. Find out more here.
Fantastic savings on shopping
USU members have access to discounts and savings on numerous items should they choose to access our Union Shopper promotion. Members can also save at Where to Enjoy!
Scholarships
We also have some opportunities annually for scholarships for our members' children. Find out more here.
Help when you need it
USU members have ready access to the Union by phone, e mail, fax and face to face with our extensive Delegates structure and our officials who are strategically based in 10 locations across NSW including one in the ACT. This network of Delegates and Officials makes accessing the USU easy when seeking the right advice and assistance required to assist members with any problems in their workplace and if needed can seek the assistance of the Industrial Relations Commission also. Find out more here.
Legal Services
The Union provides a legal service in relation to Industrial Disputes and Workers Compensation Claims. The cost of this service would generally be in the order $200 -$250 per hour, and is provided free of charge to all USU members. Find out more here.
How are the fees calculated?
The Union has indexed our fees to 1.073% of any salary increase based on the NSW Local Government (State) Award salary entry level to Band 1 Level 3. For example an increase in salary of $10.00 per week based on B1 L3 pay rise= 10.073 cents per week increase. No NSW Local Government (State) Award pay Increase = No fee Increase.

However since 1995 the USU has been able to ensure through our efforts in negotiating each of the successive Local Government (State) Awards that annual increases in Salary occur – this is on top of any salary increases for our members due to progression through the salary range in their local salary system which is another award condition achieved and held now for over two decades.
NSW Local Government (State) Award Salary/Wage Increases
During the period covering the Award increases between October 2000 to July 2018, your Union negotiated Award Increases totalling no less than 56.8% on a flat rate but which actually are much higher when calculated on a cumulative compound increase basis. When calculated based on the starting rates of pay from October 2000 it increases the amount to no less than 174.97% and has taken the amount paid at Band 1 Level 3 entry level from $518.00 pw in October 2000 to $891.80 pw in July 2018. Note; this does not include the Award Allowances many of which have risen at even higher levels.
In the same period USU fees have increased from $6.03 per week to a maximum of $10.58 per week. Therefore, the work carried out by your Union has resulted in AN INCREASE IN SALARY OF $373.80 (for a USU member paid at Band 1 Level 3 entry rate) PER WEEK FOR AN INCREASED OUTLAY OF ONLY $4.55 PER WEEK.
Wages
Further to this the 2017 NSW Local Government (State) Award will deliver another increase of 2.5% from the first full pay period after July 1 2019 (this is in addition to the increase effective July 2018). These increases have been achieved without trade-offs of conditions while delivering increased flexibility and productivity to our members and their employers. The Union will continue to work for better salaries and conditions in the next 2020 NSW Local Government (State) Award for which negotiations shall be commencing around mid- 2019.
These negotiations and subsequent benefits require the allocation of considerable time and resources from our very experienced negotiators and would not be possible without the continued support of the membership.
PLEASE REMEMBER IT IS SOLELY DUE TO THE CONTRIBUTIONS OF OUR MEMBERS' FEES THAT PROVIDES THE FUNDING AND RESOURCES NEEDED FOR YOUR UNION TO NEGOTIATE AND CAMPAIGN FOR THE AWARD OUTCOMES THAT YOU ENJOY IN YOUR CURRENT SALARY AND CONDITIONS.
WITHOUT UNION MEMBERSHIP THESE INCREASES WOULD NEVER HAVE HAPPENED.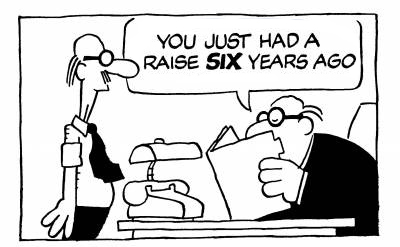 WHEN WAS THE LAST TIME THAT YOUR BOSS CAME AND TOLD YOU HE WAS GOING TO GIVE YOU A PAY RISE ABOVE THE AWARD???
HAVE YOU EVER SEEN A LOG OF CLAIMS FROM THE EMPLOYERS WHICH ACTUALLY SEEKS TO RETAIN AND IMPROVE YOUR CONDITIONS AND SALARY?
It makes sense to insure your job. In today's economic climate when the Federal Liberal/National Government continues to push for industrial reforms at the expense of workers' rights, and we are facing the ever present danger of contracting and competitive tendering – WHO WILL STAND UP FOR YOU?
The Federal Liberal/National Government is continuing its campaign and anti-union agenda to remove or lower workers' rights.
UNION MEMBERSHIP IS CRITICAL TO THE WELLBEING OF ALL COUNCIL EMPLOYEES AND THEIR DEPENDENTS.
Many employees will say there is no need to join the union as they get everything in the Award anyway. However, just think about this for a moment. If every council employee adopted this approach, there would be a very real possibility of:
No Members
No Union
No Award
No Job?
Union members have more rights than non-members under the NSW Local Government (State) Award such as:
Union Picnic Day and if members are required to work on picnic day the right to public holiday rates of Double Time and a Half for all hours worked or their choice of Time and a Half plus equivalent paid time off in lieu.
The right to be represented by their Union at any stage during a grievance or dispute including the ability to have unresolved grievances referred by the Union as a Section 130 Dispute to the NSW IRC. Note: only Unions can lodge section 130 disputes. A non- member cannot do so without a Union even if they engage their own legal representation.
The right to have Union representation during workplace investigations and disciplinary meetings.
The right to have Union representation and prior written notice in regards to Workplace Change and Redundancy.
Workers must understand that the Union operates in some ways like an insurance company. You cannot have an accident with your uninsured vehicle and then expect to receive backdated coverage if you take out insurance.
If you insure your Home and Contents and Vehicle why wouldn't you also seek to insure your job which provides the income needed to purchase or own a home, contents and vehicle, etc?
When you factor in all of the above can you truly believe that the cost isn't worth belonging to the USU?
---
Long Service Leave.
The NSW Local Government (State) Award which your union negotiated, provides for Long Service Leave accruals well in excess of those contained in the Long Service Leave Act which the overwhelming majority of workers who are not covered by your Award receive.
CHECK OUT WHAT A DIFFERENCE THIS MAKES!
 
Long Service Leave Act
NSW Local Government (State) Award
Accruals
0.8 weeks per year of service
1.3 weeks per year of service for the first 15 years
2.2 weeks per year of service for each year after 15 years service
 
8 weeks per each 10 years of service
6.5 weeks per each 5 years of service up to 15 years
or 13 weeks per the first 10 years of service
11 weeks per each 5 years of service after 15 years
 
LSL accessible after 10 years of service
LSL accessible after 5 years of service
Further benefits under the NSW Local Government (State) Award apply such as flexible taking of leave eg half pay or double pay plus excess leave accrued over the 0.8 weeks per year of service can be salary sacrificed into superannuation.