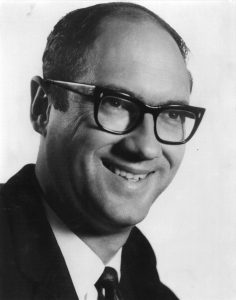 The Hon Peter McMahon A.M. passed away peacefully on 13 March 2022 following a short illness, Peter will be deeply missed by family, friends, and former colleagues.
Peter was a former General Secretary of the Municipal Employees Union 1969-1982, Federal President Municipal Employees Union, Local Government Superannuation Trustee, ALP State Executive Member, ALP Administration Committee, ALP Life Member, Former President of NSW Labor Council, Deputy President of the NSW Industrial Relations Commission and MLC NSW Parliament.
In 1960 Peter was selected by the ACTU Executive as Australian Trade Unionist to Britain and Europe as "Imperial Relations Trust Bursar" for a period of six months.
Peter was a giant of the trade union movement who made an enormous contribution ensuring that working people had a voice and a place in our industrial and political systems.
Peter championed change that delivered better wages and conditions for all and not just for the few, change that amplified the voices of ALL working people in the corridors of power and not just for the few, change that delivered a better work life balance for all and not just for the few.
Peter never stopped advocating for working people and he will always be remembered by his United Services Union family, may he rest in peace following a life well lived and one that delivered so much for so many.
Graeme Kelly OAM
General Secretary
Other tributes:
Peter McMahon: unionist fought for better pay and conditions
By
Michael Easson

(originally published in the Sydney Morning Herald)

https://www.smh.com.au/national/peter-mcmahon-unionist-fought-for-better-pay-and-conditions-20220318

NSW PARLIAMENT TRIBUTE TO PETER MCMAHON, AM

The Hon. ADAM SEARLE

https://www.parliament.nsw.gov.au/Hansard/Pages/HansardResult.aspx#/docid/HANSARD-1820781676-88383/link/95