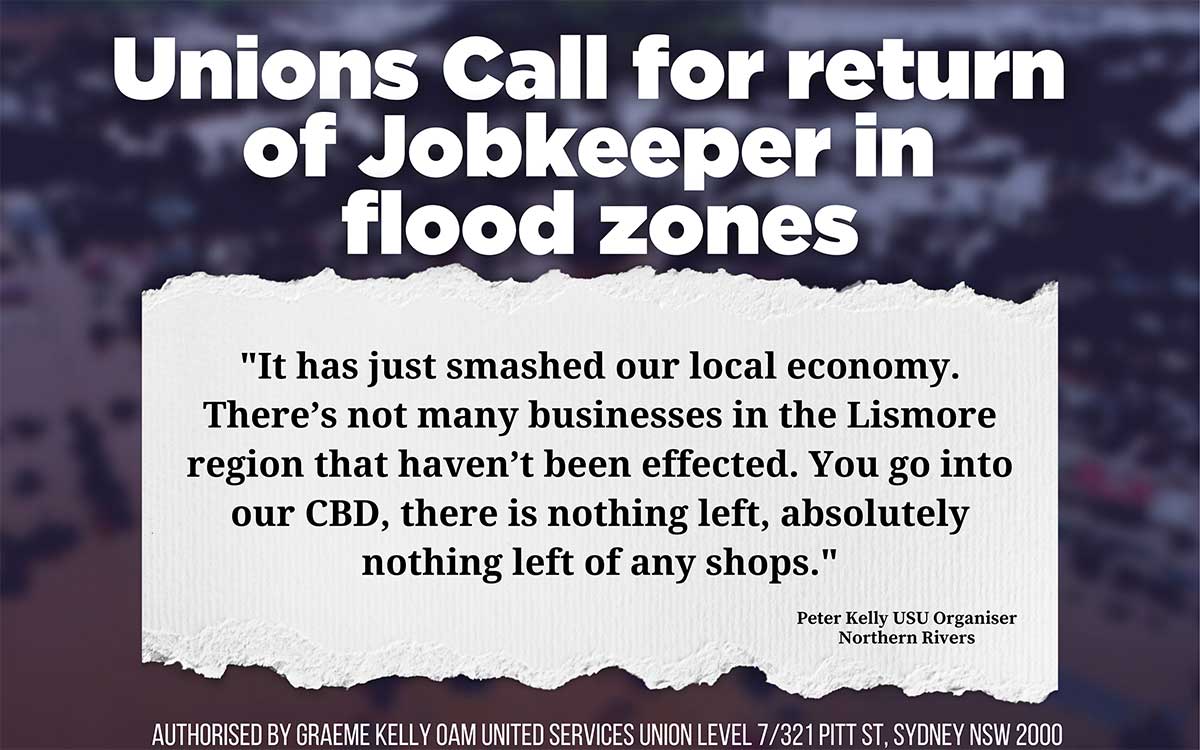 Every day is a fresh nightmare for the people of flood-ravaged city Lismore and other communities on the New South Wales north coast.
United Services Union organiser and Lismore local Peter Kelly is out on a massive clean-up operation when On the Job reaches him on the phone.
"You've got to remember we're a town that has grown up on floods," he says.
"These floods are like nothing else we've ever seen."
"You normally see a flood record that's between 5-20 centimetres [higher than the previous level]. We had it in the vicinity of 2.1 metres over."
"It has just smashed our local economy. There's not many businesses in the Lismore region that haven't been effected. You go into our CBD, there is nothing left, absolutely nothing left of any shops," Kelly says.
The recent super-flood has literally washed away daily life in the region, and with it the jobs, businesses and stability of tens of thousands of workers and families.
The fear for Lismore and its workers is that those jobs and businesses won't return unless there is swift and decisive action from the Federal Government.
Unions NSW is calling for the reintroduction of Jobkeeper for flood-affected regions, to bolster economic security and maintain relationships between employers and employees.
Unions NSW Secretary Mark Morey told On the Job it was vital to provide workers and business some certainty in what is an incredibly volatile and distressing time.
"I think that the big thing is thinking about the future and trying to have a sense of hope. It is one of the things that's very hard up there at the moment" he says.
Morey says the two priorities are ensuring long-term secure income and keeping skilled workers in the area.
"Some people might just think – Oh my God, I'm going to move – and that could be the worst thing for the area," he says.
Morey points out how the floods have once again exposed the danger that precarious and insecure work poses to the wellbeing of communities that are hit by traumatic events.
"There's a high level of casualisation in the workforce there, insecure work,  and I think unless people have got something to connect them to their employer, many are going to think – I'm just going to go," Morey says.
Peter Kelly foresees an existential crisis approaching the community on the north coast after the waters have subsided and the TV cameras have moved on.
"We need an intervention by government like no other before to make sure that people are going to be able to pay their bills, their mortgages," Kelly says.
Mark Morey is concerned about the survival of towns and communities in flood zones, and believes some will struggle to recover without significant government assistance.
"Some of those towns are teetering on the edge. A lot of people don't have insurance because it was $20-30 thousand a year. They've been through huge floods just recently and now they're having to start all over once again, and that is psychologically and emotionally effecting people," Morey says.
So far, the response from Scott Morrison and his government has fallen well short of the mark, according to Kelly.
"Scott Morrison turned up but wouldn't face the community, and the community is frustrated by the lack of action by the Morrison government," Kelly says.
"The one thing people in this region desperately do need is hope, and hope will be granted if we can give them a stable financial future."
"People need to know – I can stay around in this town, I can rebuild this town, I know I've got financial security with the payments coming in."
"People need to know my job will be here and the people I work for are going to be able to reopen," he says.
"That will allow people to stay in our area and build this up to be the great community that it was before the flood. We just want to come through this stronger."
Originally published: https://www.australianunions.org.au/2022/03/18/calls-for-jobkeeper-in-flood-zones-to-save-struggling-communities/