ABS figures have revealed just how hard it is getting for Australian workers under the Turnbull government. Record low wages and now a slash to penalty rates mean Australian workers are going backwards. It's time to tell Malcolm to take action.
When Malcolm promised jobs and growth he failed to mention that the jobs would be low paid and the growth all in the pockets of big business.
With the cost of living in Australia high and the prospect of buying a house now out of the reach of a whole generation, the Australian government's continued mantra is to decrease wages.
Meanwhile Malcolm wants to cut taxes to big business.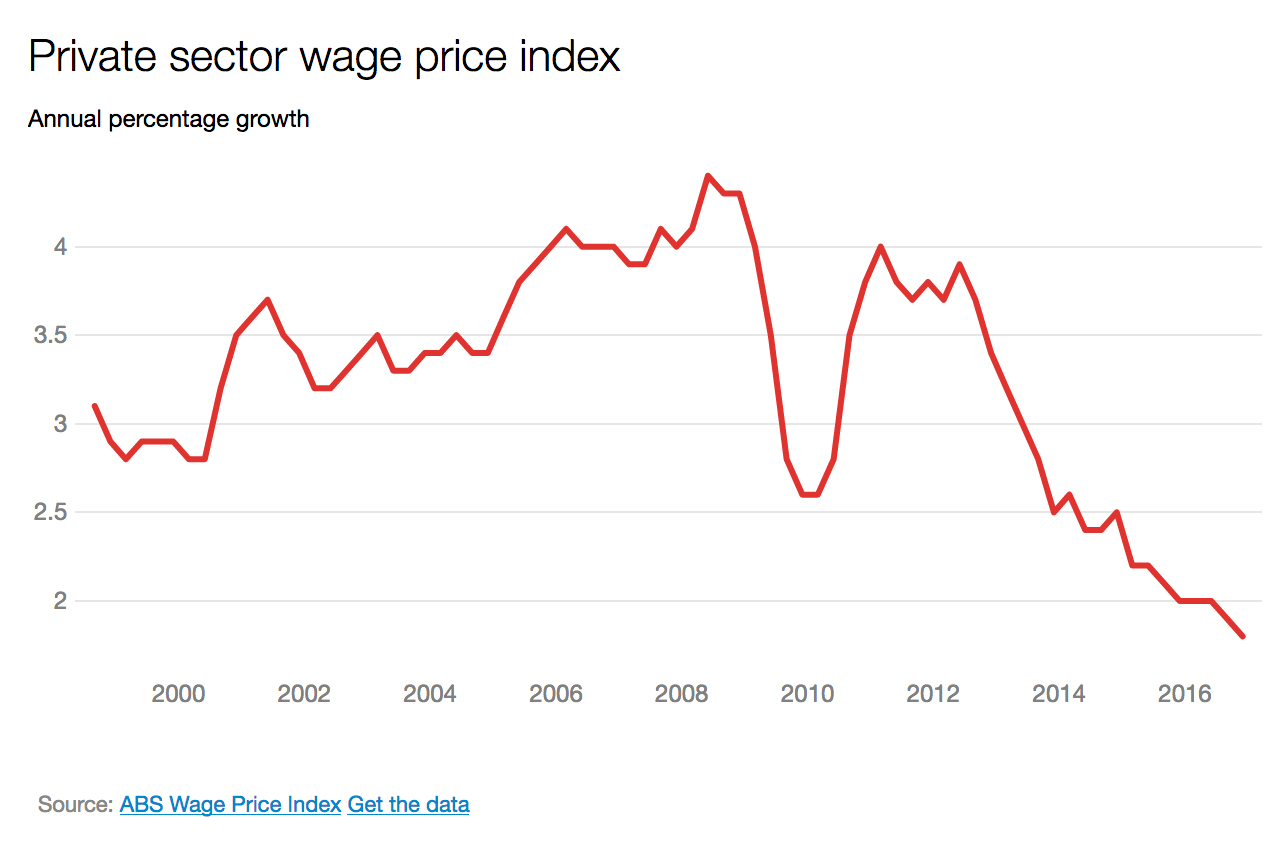 Lowest wage increase on record
The latest figures from the Australian Bureau of Statistics (ABS) showed the wage price index increased 1.9% for the year to December 2016, the lowest on record.
While real wages have stagnated for many years and corporations have pocketed soaring profits rather than reinvest in their staff, we have seen record low wage growth and productivity growth has not been passed on to the workers who generate it.
Even Treasury and the Reserve Bank have stated that low wage growth is a significant brake on economic prosperity.
The USU makes no apology for pursuing fair wages increases for our members – their futures depend on it but unless the government takes action then we are fighting against the odds.
Inaction on business, overuse of casualisation and short-term contracting, abuse of the labour hire system and the exploitation of migrant workers which place downward pressure on workers' wages cannot be allowed to continue.
Penalty rates decision a body blow for the lowest paid
In the face of such devastating news on wage growth there could be no worse time to slash penalty rates for some of Australia's lowest paid workers, but that is what has been announced this morning by the Fair Work Commission.
This decision to radically cut Sunday and public holiday pay will give almost one million Australian workers a huge pay cut. The Turnbull Government did nothing to protect these workers at a time when they needed it most.
The United Services Union joins the union movement in calling on the Turnbull Government and all political parties to immediately act to protect working people from any cuts to their take home pay, which will come into effect on 1 July, 2017.
Hospitality, restaurant, fast food, retail and pharmacy workers will have their Sunday penalty rates cut between 25% and 50%. Public holiday pay was also slashed by up to 25%. This is a loss of up to $6,000 per year for some workers. No worker will be better off as a result of this decision.
SIGN THE PETITION BELOW TO TELL MALCOLM IT'S TIME TO LOOK AFTER WORKING AUSTRALIANS.