Negotiation your Enterprise Agreement (EA) has been a slow process. From the outset, the United Services Union (USU) was clear with NRMA that we wished to improve on existing conditions along with a decent annual wage increase that kept up with your cost of living.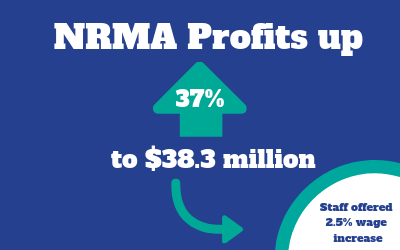 The NRMA presented us with a draft EA on 7 March 2019. The USU returned feedback on the draft EA on Monday 18 March 2019, which for the most part is a benefit to our members, except for the annual wage increase. The NRMA is offering an increase of 2.5% per annum. A measly 2.5% for you, the frontline hard working staff, meanwhile The NRMA 2017 Annual Report showed that the Business operating Profit of $38.3million was a 37% increase to the FY2016 profit of $28.0 million.
Consistently throughout negotiations your feedback provided to the USU is that you deserve a minimum increase of 3% per annum to remunerate you for your hard work, as well as to compensate for the additional work and expectations over the last 3 years.
It has been brought to our attention that the NRMA has today, Wednesday 20 March 2019, provided a clean copy of the proposed EA to employees and a summary of changes.
Unfortunately, the USU was not provided with this information beforehand and therefore unable to review or comment on the documents.
Further, the NRMA has arranged for employees to attend paid meetings about this proposed document, whilst all this time have prevented the USU from holding paid meetings with employees due to 'business requirements'; we were not invited to attend these paid meetings.
The USU will be visiting Gosford and Sydney Olympic Park over the next 3 weeks and will be available to speak to all employees about the EA process.
NRMA advised us on Tuesday 19 March 2019 that the ballot to vote yes or NO to the EA will be open between 9.00am on Thursday 28 March 2019 until 9.00am on Monday 1 April 2019, and will be conducted by online by "Go Vote". The EA will be accepted, or not, by a majority vote.
We urge you to review the proposed EA in detail and consider if the overall offer is good enough, not just for you, but for your family, your lifestyle and workplace expectations and conditions.
For more information, please contact your:
Bargaining Representative Erin Axford; or
USU Official Melissa Pond mpond@usu.org.au;
USU Official Emily Callachor ecallachor@usu.org.au
MOST IMPORTANTLY, tell NRMA that this offer is not good enough by VOTING NO to the EA.
We know that representatives of NRMA have recently advised staff to accept the offer of 2.5% or else you will not be back paid AND that the negotiation process will reset to day 1. This is a standard tactic used by employers to scare employees into accepting a substandard offer.