The USU, your Union, along with our colleagues at the LGEA have lodged proceedings before the New South Wales Industrial Commission. The USU and LGEA are seeking orders to ensure Council upholds their commitment to undertake a genuine consultation process regarding excess leave.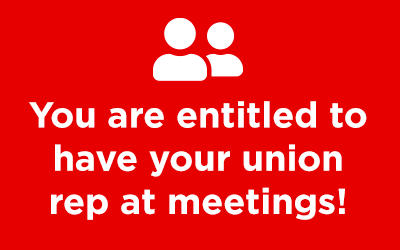 As you may be aware, the CEO sent an all staff email on 25th June 2020 outlining Council's intentions to hold individual meetings with staff to reduce leave balances. Subsequent to this, Council released FAQ's which outlined Council's approach. These FAQ's included removing several excess leave options available under the Award, such as – "cashing out", "salary sacrifice for superannuation" and "double pay" options.
We are aware that Council is planning individual meetings and in some cases YOU will be greeted by TWO bosses and a People & Culture Representative.
BE AWARE: USU Members are entitled to union representation and we urge not to go alone!
The USU is very concerned that Council bosses are making these decisions in isolation. The USU and LGEA have filed disputes before the NSW Industrial Relations Commission – these disputes demonstrate a clear intention by the USU to challenge any failure of Council to uphold their commitment to the Award.
The USU was pleased with the initial outcomes of the conciliation hearing held on 2nd July 2020.
These included;
A meeting between the Unions and Council is planned for 8th July 2020 to discuss Council's reported financial position and any potential joint solutions. This will include how a reduction of any excess leave will assist Council's bottom line.
Council will issue letters to members outlining individual "excess leave" balances and a request for meetings from 13th July 2020 – you are entitled to union representation and we urge not to go alone!
IMPORTANTLY – An undertaking was made by Council that no Union member will be required to agree or sign off any plan at these initial meetings. We suggest that members engage but not agree to any plan under duress.
A report back to the NSW IRC to monitor ongoing progress has been scheduled for Friday 10th July 2020 (prior to any meetings with members and their USU representatives).
Further outcomes will be provided to the membership following the next IRC hearing.
The Union Services Union, your Union, will always ensure Central Coast Council is held accountable to the Award.
Action Required: All members are invited to Unite and if you are summoned to attend a meeting with your Boss on any industrial matter – DO NOT ATTEND until your USU representative is with you to ensure your Award rights are upheld.
Furthermore, you are NOT required to agree to take any leave or an excess leave plan, until further discussions or resolutions are made in conjunction with NSW IRC.
We are by your side.
Not yet a member? Concerned about being next the target? Contact your local USU Delegate or USU Organiser on 0419 761 323 / lhutchinson@usu.org.au to join today!