You may recall a flyer the USU sent to NPBS Union members in early July this year outlining ongoing concerns regarding the interpretation of Clause 14.12 of the Enterprise Agreement which relates to Part Time employees who work hours in excess of their contracted hours.
Your Union continues to received feedback from both Part Time employees as well as Branch Managers and ABM's, confirming that they are unsure of the relevant/applicable basis for employees to be paid (i.e. penalty rates, or additional ordinary hours).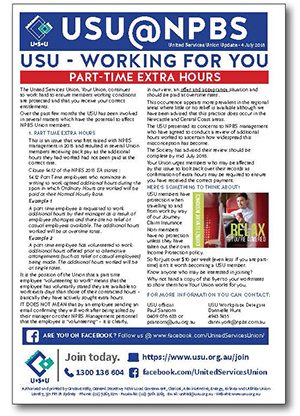 Our last flier
In our last flyer we stated NPBS management had agreed to undertake a "stocktake" to determine how widespread this issue is, however, we have received no correspondence from the Society regarding the outcome of their investigation.
It also appears that the Society's continuation of having the employee confirm their acceptance of extra hours in an email as a means of defining this as Additional Ordinary Hours indicates they may not agree with the Union's view.
Therefore the USU has lodged a dispute with the Fair Work Commission requesting their assistance in providing both the Union and NPBS Management with an interpretation of the current clause.
This will, in our opinion, provide clear guidelines of when penalty rates are payable and when the hours qualify as Additional Hours at normal rate.
Why did we take this step?
We want to get it right sooner rather than later.
The USU feels that Part Time employees should be clear on what they are entitled to under the current wording, as should the Branch Managers who are requesting their staff to work.
By having this interpretation, NPBS Regional Managers, Co- Ordinators, and People and Development, will also be aware of their obligations in regard to complying with the provisions of the EA.
That is why we are asking for the FWC's assistance – to provide all parties with a clear understanding of when penalty rates or additional ordinary hours apply.
IMPORTANT: Part time members who feel they may be affected by the current situation are urged to keep records of extra days/hours worked as we may require these records to assist in potential back pay if applicable.
We will provide USU members with a further update following the hearing.
For more information you can contact:
USU official
Paul Sansom
0409 076 633 or
psansom@usu.org.au
USU Workplace Delegate
Dannielle Hunt
4943 7455
danni.york@npbs.com.au