Hundreds of council workers, community members, and former elected councillors will protest in Auburn this afternoon over fears the administrator of the recently amalgamated Cumberland Council will seek to outsource garbage collection services to private, profit-driven operators.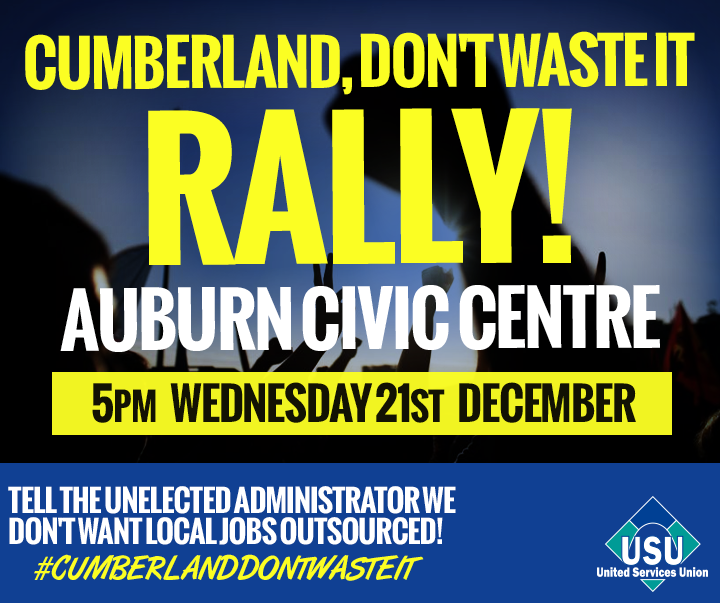 The United Services Union, which represents workers at the council that encompasses the former local government areas of Auburn, Holroyd and parts of Parramatta, said the meeting would see Cumberland Council Administrator Viv May act as "judge, jury, and executioner".
Three hundred council staff, who have become increasingly concerned that jobs and services are at risk, held a meeting earlier this month to pass a motion of no confidence in the appointed administrator, with the USU subsequently writing to Premier Mike Baird and Local Government Minister Paul Toole urged Mr May's immediate dismissal.
The union correspondence stated: "It is our view that given the deteriorating relationship between Mr May and Council staff, as well as his seemingly pre-determined desire to outsource key Council services, that Mr May's position as Council Administrator is now untenable. We ask that you give strong consideration to advising the Governor to dismiss Mr May with immediate effect."
USU metropolitan manager Steve Donley said the union had provided alternatives to the council, including by identifying substantial productivity improvements that would allow in-house staff to collect 20 per cent more bins than the current arrangement.
"Despite repeated promises that council amalgamations were not about slashing jobs and services, the NSW Government's appointed administrator to Cumberland Council seems intent to use his powers to allow private companies to take over Cumberland Council's waste services," Mr Donley said.
"Tonight, as Mr May presides as judge, jury, and executioner, we fear he will take a disastrous step towards locking the council and local ratepayers into an expensive, inflexible, long-term contract while denying the community a voice on service delivery.
"It is possible to retain an in-house service that provides a comparable level of service while retaining quality jobs for local residents, with the union already identifying ways to increase productivity by more than 20 per cent at no extra cost to the ratepayers."
Protesters will be joined by Member for Prospect Hugh McDermott, Shadow Local Government Minister Peter Primrose, Greens MLC David Shoebridge, Shooters and Fishers MLC Robert Borsak, and former councillors including Lisa Lake, Yvette Whitefield, and Glenn Elmore.
What: Community protest against outsourcing
When: 5pm, Wednesday 21 December 2016
Where: Auburn Civic Centre, 1 Susan St Auburn
Media contact: Tim Vollmer — 0404 273 313