Today crowds gathered to remember and pay tribute to the three workers killed in the Hilton bomb blast 39 years ago. USU General Secretary Graeme Kelly spoke at the service. This is a copy of his address as he paid tribute to the workers and their families.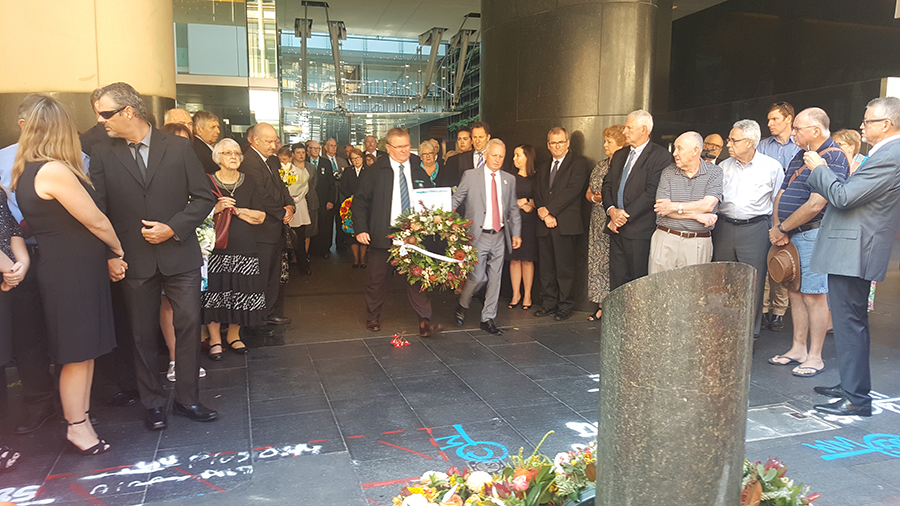 Thirty-nine years ago today, two council workers and a police officer went to work to do what they did every day: serve the community.
But as they said goodbye to their wives and children, none could have imagined they were about to fall victim to the first act of terrorism in our nation's history.
At about 12.40am that Monday morning, Alec Carter and William Favell emptied the contents of a rubbish bin into the back of a garbage truck.
As the truck crushed down on the refuse, a bomb — reportedly containing 36 sticks of gelignite — detonated, killing both men. 
The driver of the garbage truck Bill Ebb and fellow council worker John Watson were injured by the blast.
Several members of the NSW Police were also struck by the explosion. Constable Paul Birmistriw passed away in hospital from his injuries. Constable Terry Griffiths, who is with us today, was seriously injured.
By 8am the Municipal Employees Union — now the United Services Union — had launched a national appeal to support the families.
General Secretary Peter McMahon OAM pledged that the trade union movement would never forget their deaths in the line of duty.
Alec and William had both spent their entire working lives with the City Of Sydney.
Their coworkers — still in shock following the news — donated their entire pay that day. 
Other unions, community organisations, and individuals made generous contributions, and a series of fundraising events were organised.
Within three months, $150,000 was raised, with every cent providing support to Alec's wife Jean and daughters Susan and Christine, along with William's wife Jeanette and daughter Cassandra.
The death of any worker is a tragedy, but the fact that a cold-blooded individual had deliberately placed an explosive device just outside this hotel — with the intent of maiming and killing — made this incident so much more horrifying.
Our union, along with the Police Association of NSW, continues to uphold the pledge made 39 years ago that we will not forget the sacrifice made by our members that day.
But more than that, our union is committed to working tirelessly to prevent future workplace deaths.
While an act of terrorism is reprehensible, our community should be equally outraged by any preventable death at work.
Everyone has the right to go to work, knowing they will be able to return home safely.
No family should ever have to suffer the devastating loss of a husband and father that was endured by the Carter, Favell and Birmistriw families.
Some photos of today's memorial: