Following two major ASU surveys about retirement security, what we learned demanded further study and the search for solutions.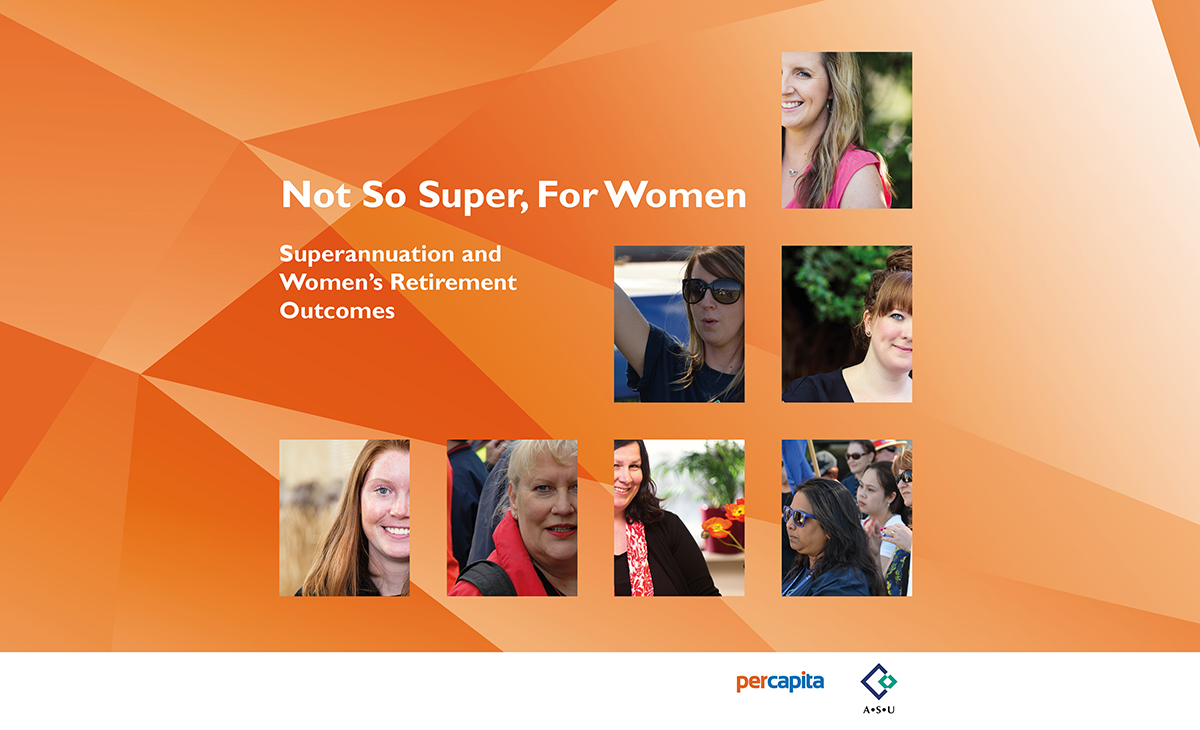 Today our national Union the Australian Services Union launched the report: "Not So Super, For Women: Superannuation and Women's Retirement Outcomes", in collaboration with progressive think tank Per Capita. The report confirms our findings, but importantly, it outlines some significant recommendations which we believe will greatly improve retirement outcomes for low paid workers.
Australia's compulsory superannuation system is failing women. According to the latest figures, women are retiring with around half as much superannuation (53%) as men.
In a major research collaboration, Per Capita and the Australian Services Union have conducted surveys with over 4,000 workers and analysed available data to examine the causes of the gender superannuation gap, and developed recommendations to close the gap.
"In accumulating superannuation, women face a 'wicked problem'. Their work is more intermittent and lower paid than that of their male counterparts. Combined with the fact that they still do the overwhelming majority of unpaid housework, parenting and caring, this has meant that the benefits of super have not flowed to women as hoped." David Hetherington, Senior Fellow at Per Capita, said.
The report finds that the most significant explanation for the superannuation gender gap is motherhood.
"While mothers suffer a very substantial pay and superannuation penalty compared to women without children, fathers receive a super and pay bonus, earning more, and accumulating more super than men who are not fathers." said Mr Hetherington.
The report recommends tracking all superannuation balances in order to intervene for those who are falling behind an acceptable 'accumulation pathway'.
The report recommends tracking all superannuation balances in order to intervene for those who are falling behind an acceptable 'accumulation pathway'. Such interventions could include government top-ups, tax relief, superannuation account fee discounts and the inclusion of a superannuation component to Family Tax Benefit B.
ASU National Secretary David Smith said, "The ASU's surveys revealed heartbreaking stories of women who will work most of their lives only to reach retirement facing a life of poverty – but documenting the problem is not enough. This report provides policy initiatives that are simple, achievable and measurable recommendations that we believe will, over time, greatly improve the superannuation outcomes for women in Australia."
Other recommendations are more systemic, including:
re-establishment of the Office of the Status of Women,
inclusion of superannuation payments in carer payments and all parental leave payments;
retention and expansion of the Low Income Superannuation Tax Offset;
suspension of superannuation fund fees during parental leave; and
need to reduce the very high effective marginal tax rates faced by women due to the combination of taxation and withdrawal of family payments.
We wish to thank the thousands of people who completed to our two surveys on retirement and superannuation. It was your candid responses that sharpened the focus on the systemic problems that exist and ensured that many would take note when we brought your stories to them. We will continue to campaign to alleviate the prospect of poverty and hardship that many low paid workers face – this new report will provide a blueprint for that campaign.

 Not So Super, For Women: Superannuation and Women's Retirement Outcomes
Media contacts
David Hetherington, Senior Fellow, Per Capita – 0413 863 068, d.hetherington@percapita.org.au
Warwick Smith, Research Economist, Per Capita – 0433 756 093, w.smith@percapita.org.au
Brigid Marasco, National Communications Officer, ASU – 0409 192 070, bmarasco@asu.asn.au 
Media coverage
'I will be stuffed': How superannuation sells women short – EXCLUSIVE by Peter Martin & Matilda Boseley, The Age, 19 July 2017
Flawed by design: why superannuation fails women – COMMENT by Peter Martin, The Age, 19 July 2017
Superannuation pay gap – ABC Radio National Breakfast – radio interview, 20 July 2017