NSW Labor announces an additional $900 million to fund council administered roads in rural and regional communities.
The USU applauds a recent announcement by NSW Labor Leader, Michael Daley, that if elected in March, his government will invest an additional $900 million to fund council administered roads in rural and regional communities.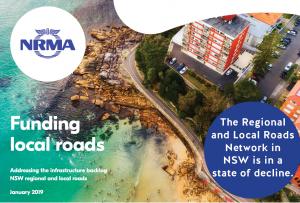 Last month, the NRMA's 'Funding Local Roads' report found that the Regional and Local Roads Network in NSW, which comprises about 80 per cent of roads in our state, is in a state of decline.
Councils are on the frontline:
Councils have been unable to obtain the funding they need to maintain these vital local roads.
Cost shifting by the NSW Liberals and Nationals, currently running at over $820 million every year, has made the funding situation impossible for many councils.
The local roads infrastructure backlog has soared almost 30 per cent since 2014-15.
USU General Secretary Graeme Kelly believes investment in rural and regional roads has never been more critical. "According to the NRMA report, local councils will face increasing risk exposure in the future if funding and asset management practices remain at current levels," said Graeme. "This will put rural and regional jobs and communities at risk. The time to act is now!"
"We are pleased that NSW Labor has accepted the NRMA's expert recommendation, and in government will boost investment in council administered roads in rural and regional areas by $900 million over five years."
"The Liberals and Nationals have spent eight long years cheating regional and rural NSW out of almost half the infrastructure spending they were promised, and instead have focused on mega toll roads and stadiums in Sydney."
The NRMA has recommended that this is the level of funding required to bring ALL local and regional roads rated by councils as being 'very poor' and 'poor' up to a 'satisfactory' level, where only routine maintenance will be required. Labor will also maintain the existing $542m fixing regional roads program – bringing the total investment to over $1.4 billion.
In addition to this extra roads funding for rural and regional councils Labor has committed to:
review and change the financial assistance grants, to include factors such as the effects of drought, and reduce the population weighting;
undertake a much needed roads classification review.