Following an announcement by Ausgrid that they propose to cut 230 jobs the USU is calling on the government to protect workers in the midst of the global pandemic. Please read this article by Peter Hannam, Sydney Morning Herald for more details.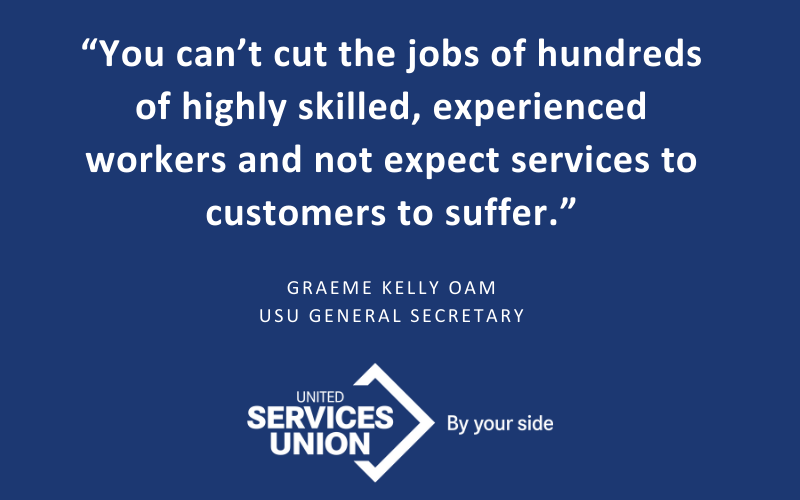 Ausgrid has announced the axing of 230 mostly back office and managerial jobs as the coronavirus makes business conditions "even tougher" for the partly privatised power network operator.
The cuts, to be implemented by next January, are part of an organisational revamp originally unveiled in 2019 that estimated 500 jobs would need to go.
"This proposed restructure will mostly impact our management teams and back office staff. No frontline jobs will be cut," Richard Gross, Ausgrid's chief executive, said in a statement.
"We have challenges to face financially, and we have been open and upfront about that for nearly two years."
Mr Gross said his focus was "to keep the lights on for households and businesses across the network", adding that COVID-19 had made market conditions "even tougher than predicted for our business".
The Baird government in NSW sold 50.4 per cent of Ausgrid to Australian Pension Funds on a 99-year lease four years ago on Tuesday.
Proceeds from the electricity distribution company covering Sydney, the Central Coast and the Hunter region totalled $16.2 billion or about $6 billion after the repayment of debt.
Affected staff would be offered a "generous redundancy package" and support to find new jobs, the company said.
United Services Union's general secretary Graeme Kelly called on the government to protect workers "in the midst of a global pandemic".
"You can't cut the jobs of hundreds of highly skilled, experienced workers and not expect services to customers to suffer," Mr Kelly said.
"Last summer we saw massive damage to electricity infrastructure from bushfires and wild weather, with years of job cuts resulting in delays of weeks if not months with power restoration for some communities," he said, adding that a new round of job losses would exacerbate those "negative impacts" this summer."
Electrical Trades Union secretary Justin Page said Ausgrid management needed to guarantee the consultation process would outline which jobs they plan to cut and demonstrate there would be no impact to frontline services.
"Less than a year ago, the NSW government was calling in the army because Ausgrid didn't have adequate staff to restore power to communities following wild storms and bushfires," Mr Page said.
"Given the state's largest electricity distributor is already struggling to deliver this essential service due to a lack of staff, the decision to slash another 230 jobs is nothing short of madness."
Troy Dunne – Sydney Metro Ausgrid
0419 403 076 / tdunne@usu.org.au
Paul Sansom – Newcastle & Hunter Ausgrid
0409 076 633 / psansom@usu.org.au