We are pleased to advise that the Fair Work Commission has approved the new Virgin Australia & ASU Guest Services & Guest Contact Centre Agreement 2020.
On 2 February 2021 the Fair Work Commission approved your new enterprise agreement. This means it will come into force on Tuesday, 9 February 2021. A copy of the agreement can be downloaded here.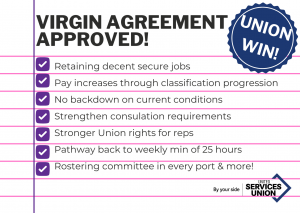 Changes taking effect in your agreement are:
Automatic career progression through the classifications to GS4. This means most employees will get a pay rise during the life of the EBA.
Commitments around job security and limiting the use of external labour hire, making sure that Virgin workers carry out the airline's Guest Services work
A pathway back to the minimum 25 weekly hours a week for part time employees

For existing staff, the minimum hours for part time employees will be:

20 hours a week from now until October 2021;
22 hours a week from October 2021 to June 2022;
Back to 25 hours a week from June 2022.

For new employees, the minimum weekly hours will be 22 hours a week
On full time employment: A guaranteed minimum of 18% of employees will be Full Time;

Yearly assessment process for part time to full time conversion.
Additional hours payment – If you are rostered additional hours with less than 48 hours' notice (including shift extensions) paid at 150% for the first 2 hours and 200% thereafter
Rostering committees at each port to work through local rostering issues
Strong consultation requirements – management must now consult if they are considering a change, not just after they have made a decision.
Requirement for consultation with employees and the USU/ASU for future stand downs
A delegate charter of rights; assuring that your union delegates will be able to do their jobs representing members.
Contact your local interim USU organiser Mick Jones at mjones@usu.org.au if you have any questions: