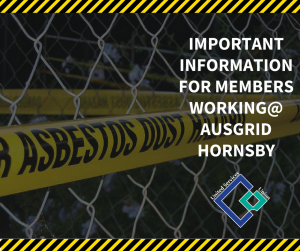 A meeting was held at Hornsby RSL between Ausgrid management and officials from the USU and ETU today (28/5) with regards to the recent asbestos incident at Hornsby. The meeting was followed by a feedback session with employees that provided staff the opportunity to have some of their questions answered.
The current status of the buildings at Hornsby are described as follows:
Building 1 – Work is continuing as normal, however, anyone who is uncomfortable being in close proximity to contaminated buildings will be accommodated accordingly ie – provided alternative arrangements.
Building 2 – Quarantined with remediation work underway. The residual debris found in the roof has been tested and confirmed as asbestos. This debris was tested and identified as low density board, which differs from substances located in Buildings 3 and 4. Remediation work commenced on 26 May.
Buildings 3 & 4 – These buildings have been quarantined whilst the business awaits the full details with regards to the asbestos found within them. From B3, samples have been taken from the underground store, materials in the meeting room and office ceiling, filing room carpet and the ceiling in the underground workshop. In B4, samples were taken from throughout the roof space and the ex-garage high bay area. Air monitoring in both buildings was clear.
Building 5 – Work is continuing as normal, however, anyone who is uncomfortable with working in close proximity to contaminated buildings will be accommodated.
Vehicles – Quarantined and undergoing thorough inspections.
In the meeting prior to the feedback session, the unions put forward a position that Ausgrid should adopt a medium to long term proactive plan with regards to asbestos removal across the network.
In the feedback meeting, Ausgrid management advised the following:
They will provide daily updates of progress, findings etc. If there is nothing new to report, they will report accordingly;
All staff and contractors that work on site have been identified and a process to identify former employees and contractors has commenced. If you know any former employees, please encourage them to make contact with the business;
The Respiratory Screening Bus will be available to all concerned employees and their families from 7 June. Arrangements for testing will be made with employees and their families;
iCare lung function testing has been offered to all current employees, former employees, contractors & their families as precaution;
Anyone who is concerned should complete the Record of Potential Exposure to Asbestos form or contact healthservices@ausgrid.com.au
That those who have reservations about completing the aforementioned form due to the wording of the disclaimer will be accommodated in that they can complete the form to the extent that they're comfortable or make alternative arrangements so as to provide their details. For those present at the meeting, signing of the attendance sheet will be taken as registration of details, subject to more information being required in future. Further, anyone who has completed a form but has reservations around the disclaimer can contact the business so as to retract that registration and re-register in another way;
That if you are concerned about your private vehicle to advise the business so as to arrange testing of your vehicle;
They are seeking advice with respect to the domestic impact on employees ie – potential contamination of washing machines at home etc;
They will expedite the replacement of uniforms & PPE in the form of bulk orders;
Counselling for staff who require it can access the EAP, chaplaincy, local mental health first aid and the Health Services team. These services have also been offered former employees, employees who have transferred and the families of current and former employees; and
They have advised neighbouring residents of the incident.
A central email facility, AskAusgrid@ausgrid.com.au is to be used for any specific questions or concerns. We urge our members who have concerns about the potential for exposure, whether it be from Hornsby or not, to use this facility.
If you have any questions please contact your Organiser Troy Dunne on 0419 403 076 or tdunne@usu.org.au