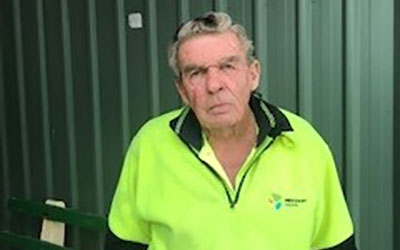 At a recent MidCoast Council Yard Meeting the local delegate and official had the opportunity to speak to Eric "Soot" Blows, a United Services Union (USU) member of 57 years. Eric has been a good Unionist and a proud member for many years. Eric started with Stroud Shire Council (which was later known as Great Lakes Council and now MidCoast Council), on the 9 November 1964 at the age of 16. Eric is now the longest serving Council employee that MidCoast Council currently employs.
Eric has done most jobs that an outdoor worker can do at a depot, from labouring, team member, plant operator to team leader/ganger. Eric was originally hired for "construction installation" in the streets of Hawks Nest. Soot fondly recalls a few memories from "back in the day", at the time he started his employment Hawks Nest only had 2 streetlights, and only one house had electricity. He also stated that the tar truck had to be loaded by hand every morning, and the emulsion tank was a 44 gallon drum with a tap that the members used to fill with a watering can to complete the process. Eric also recalled that all excavation work was done with a mattock and shovel, which saw jobs taking weeks to complete compared to only hours these days due to the machinery and equipment now available to Council workers.
Two weeks into his career at Council, Eric was poached by another crew doing "bush fences" in the Seal Rocks area. The job was initially meant to be a two-week period and camp-out that turned into an eighteen-month period.
Eric recalled that the depots were located at Tuncurry, Stroud, Bulahdelah and Tea Gardens, but he mainly worked out of the Southern depots. The distance between depots and areas would see the members normally "camping out" at the sites if the jobs were for more than one or two days. If you did travel back home, it would be on the back of a truck sitting on timber blocks under a frame and tarp.
Some of the big changes Eric has witnessed in his time, is that members now have Personal Protective Equipment (PPE) and work clothing. When Eric started work it was whatever that you were lucky enough to find would have to do, Eric stated "some blokes didn't even have work boots, no sun safe PPE all things the Union fought for us to get". "I have seen hundreds of staff come and go in my time here". This must be taken in contrast as "Stroud Council" only having 70 staff at its peak back in the 70's and 80's to only having 20 or so staff at the depot now. Eric stated that even though technology has changed, and modern equipment and safety have taken huge steps forward, the change that is most notable is "the mateship and comraderie", that used to be an everyday part of country life is starting to fade away quicker and quicker as distances between towns become closer and closer.
Eric said that he has loved his time at Council and has meet some great blokes and work mates in his time, but it has not been all plain sailing like many others. Eric had his kidney removed due to cancer back in 1994, not his only battle with cancer. Unfortunately, Soot lost his wife of 40 years to cancer in 2011, around the time when he was originally thinking of retirement. His fellow workers, like most small towns and depots were very supportive of Eric through these times, and as Eric keeps saying it is a good place to work, close to home and I'm still here in my local area. Eric still feels that he has a lot to offer and while ever he can still keep up with the other crew members and mentor the younger members coming through retirement is not an option yet.