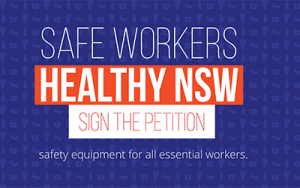 Essential workers in NSW are being asked to work with little or no safety equipment. They come into contact with people daily, putting themselves at greater risk of contracting COVID-19. They do this to keep our state healthy, safe, moving and functioning during the coronavirus.
Face masks are being rationed in hospitals, hand sanitiser is in short supply in schools and childcare centres and some others are missing out entirely on health or safety equipment.
Unions NSW are now calling on the NSW Government to rapidly deploy personal protective equipment required by essential workers in NSW.
Unions NSW has now launched the "Safe Workers – Healthy NSW" campaign. This campaign aims to unite the community and union members in a call on the NSW Government to ensure that all workers in NSW have access to adequate personal protective equipment.
To support the campaign, we are asking USU members to take the following three actions:
Attend the online Town Hall campaign launch on Wednesday 6 May 2020, at 12:00pm. Register for the launch here >