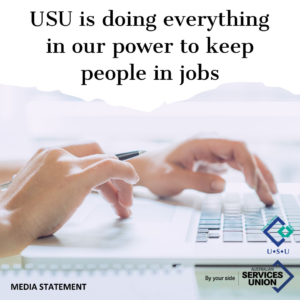 The United Services Union and Australian Services Union are doing everything in our power to keep people in jobs. We have come to an agreement with the Federal Government and Employers to temporarily vary the Clerks – Private Sector Award to accommodate changes to work patterns with the COVID-19 crisis.
The Award covers around 1 million Australian workers around 65% of whom are women. The jobs of these workers are often unseen but they keep offices and business ticking over.
The changes are designed to give employers every chance to keep workers employed and to deal with the practical implications of working from home, now required of many workers.
The changes mean that workers will be allowed to work from home across much extended hours, between 6am and 11pm (Monday-Friday), reflecting the unique situation where workplaces have virtually emptied to comply with social distance and isolation rules.
The temporary changes will also allow for more flexible access to annual leave and allow the workforce to vote for a reduction in hours so that workplaces can band together to get businesses through the crisis where needed.
The union also negotiated a win for workers, with access to online training and professional development given greater recognition so workers can skill-up in coming months for potential changes in their job and to make use of time where their hours have been cut.
National Secretary Robert Potter said the changes reflected the pragmatic approach being taken by the union with a focus on keeping people in work.
"We're talking to our members every day and workers are saying their number one priority right now is to keep their jobs," said Mr Potter.
"These changes are practical, recognise the reality of the crisis and are temporary so that we do not lose any of the right and entitlements workers have fought for in the long term.
"Given the flexibility the union and workers are showing now, we expect to see the same level of engagement with the workforce and unions when this crisis subsides."
Media contact: Tim O'Halloran 0409 059 617