In a massive boost for local government spending the Federal Government has announced a $500 million fund to help local councils stimulate their economies during the coronavirus pandemic.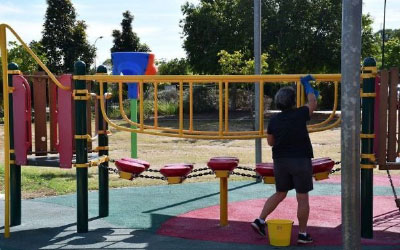 The Commonwealth will also bring forward $1.3 billion in annual grant payments to local governments for 2020/21 which means Local councils are promised $1.8 billion in federal funds to accelerate projects that support jobs.
"The USU applauds this stimulus injection," USU General Secretary Graeme Kelly said.
"Our ASU National Executive has met twice with the Federal Minister for Local Government, Mark Coulton, reiterating the need for funding that will increase spending in local communities across Australia and stimulate jobs when they are needed most."
"As the largest branch of the Australian Services Union we are glad that we could play a significant role promoting the benefits of a package like this," Graeme said.
The Minister for Local Government Mark Coulton said the money could go towards road upgrades or community infrastructure projects such as bike paths and picnic shelters.
Projects could include constructing or improving bridges and tunnels, street lighting and heavy vehicle facilities such as rest areas.
"The criteria will be very broad, that's the idea of it, to employ maybe some of the underutilised local government staff or unemployed people within their local areas," he said.
"But part of the guidelines will be that all materials need to be procured from the local community so local businesses will get an opportunity to get benefit from it as well," Mr Coulton said.
"This is a win for the local government industry, for local government workers and for local communities right across Australia," Graeme Kelly said.
"We look forward to further discussion on the allocation of funds to ensure a transparent process to allocate the money."
Are your details up to date?
Visit the USU at: www.usu.org.au/update-my-details