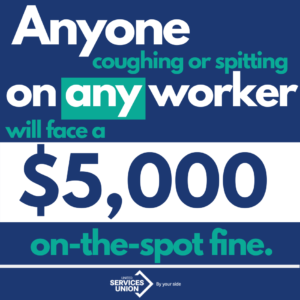 Last weekend the NSW Government announced anyone coughing or spitting on any worker will face a $5000 on-the-spot fine.
This extended measure covers all workers and is a vital measure, especially for those workers exposed to the general public in customer service areas.
In local government it covers rangers to garbage collectors, customer service officers and maintenance workers.
Police will be able to fine people who target all types of workers, not just those in emergency services or healthcare.
NSW Police now have the power to issue the on-the-spot fine to anyone who coughs or spits at workers on-the-job or coming to and from their workplaces during the COVID-19 epidemic, after the Health Minister extended a Ministerial Direction under the Public Health Act.
Every worker in this COVID-19 crisis is now an essential worker and will have the added protection they deserve.
Everyone has the right to go home safely from work and not be concerned that they are bringing home a potentially fatal disease.
The USU has strongly advocated on behalf of our members exposed to this health threat.
Extending this penalty ensures that all essential workers are treated equally.
Should you have any concerns regarding your health during this COVID-19 crisis please contact your delegate or USU organiser or our Support Team on 1300 136 604.