Award 2020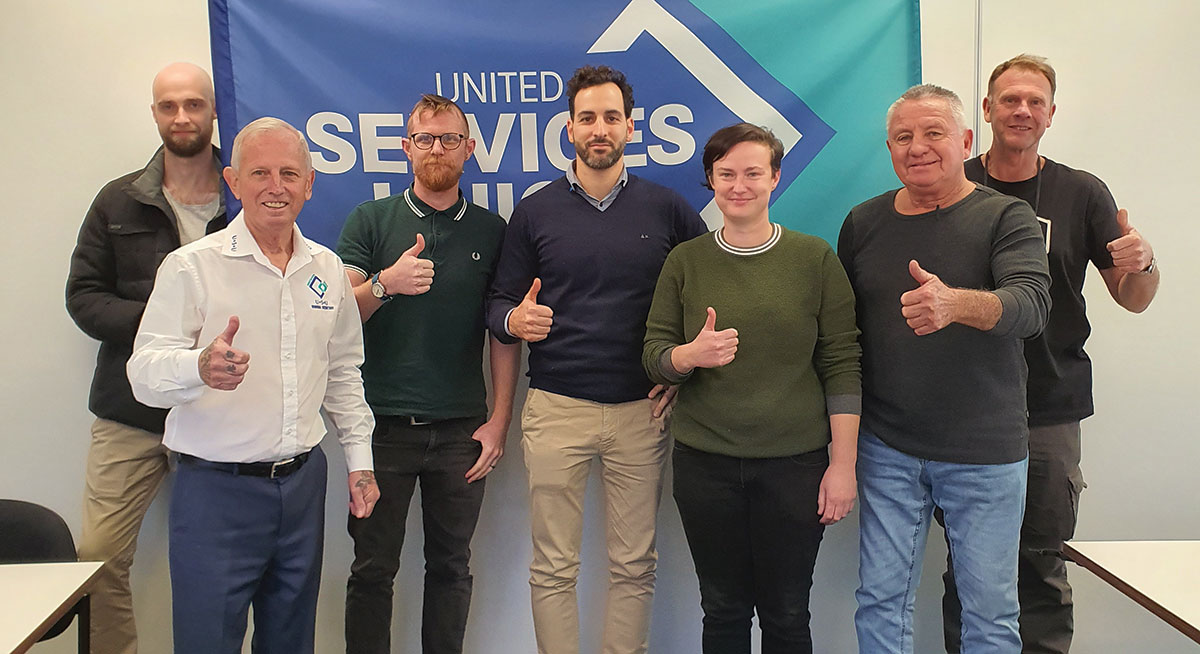 DOWNLOAD THE 2020 NSW LOCAL GOVERNMENT (STATE) AWARD HERE
Since mid 2019 the USU has been involved in ongoing negotiations for the 2020 NSW Local Government (State) Award. These negotiations were difficult with every aspect of the Award – including some of your most basic working conditions targeted in the initial Log of Claims by the Employer's Association LGNSW.
As members are aware the union usually conducts over 350 mass meetings across every council in NSW to make sure members have a say in their Award.
Covid-19 put a stop to that - but it could not put a stop to our democratic process. We looked at all our options and decided that a postal ballot sent directly to members was the best way to ensure as many members as possible could vote.
TIME FRAME
The time frame that we had to adopt regarding the mail out was regrettably tight. This arose because we were not in a position to finalise the information to go out with the postal ballots until we had finalised negotiations, and the Employer's Association LGNSW Board had endorsed the Award package.
In this Award, the USU has been able to secure an Award package focussing on improvements to job security with a wage increase of 5.5% over three years. Additionally there will be a further 1% superannuation guarantee increase, bringing the total package to 6.5% over three years.
The first wage increase applied from the first full pay period in July 2020 and will be 1.5% with further increases of 2% to apply from the first full pay period in July 2021 and July 2022.
THE PROCESS
We immediately had to print almost 26,000 individual ballot forms, envelopes and information packages to be mailed out by priority post. The closing date of the 26th of June was determined by the availability of the Industrial Commissioner who was dealing with the Award.
CHECK OUT HOW MEMBERS AT YOUR COUNCIL VOTED!
| | | | |
| --- | --- | --- | --- |
| Employer | Yes | No | Informal |
| Albury City Council | 100.00% | 0.00% | 0.00% |
| Armidale Regional Council | 100.00% | 0.00% | 0.00% |
| Ballina Shire Council | 100.00% | 0.00% | 0.00% |
| Balranald Shire Council | 100.00% | 0.00% | 0.00% |
| Bathurst Regional Council | 97.30% | 2.70% | 0.00% |
| Bayside Council | 97.92% | 2.08% | 0.00% |
| Bega Valley Shire Council | 86.96% | 4.35% | 8.70% |
| Bellingen Shire Council | 100.00% | 0.00% | 0.00% |
| Berrigan Shire Council | 100.00% | 0.00% | 0.00% |
| Blacktown City Council | 95.00% | 4.58% | 0.42% |
| Bland Shire Council | 100.00% | 0.00% | 0.00% |
| Blayney Shire Council | 100.00% | 0.00% | 0.00% |
| Blue Mountains City Council | 97.37% | 0.00% | 2.63% |
| Bogan Shire Council | 100.00% | 0.00% | 0.00% |
| Bourke Shire Council | 100.00% | 0.00% | 0.00% |
| Brewarrina Shire Council | 100.00% | 0.00% | 0.00% |
| Burwood Council | 100.00% | 0.00% | 0.00% |
| Byron Shire Council | 100.00% | 0.00% | 0.00% |
| Cabonne Shire Council | 100.00% | 0.00% | 0.00% |
| Camden Council | 96.30% | 3.70% | 0.00% |
| Campbelltown City Council | 91.30% | 8.70% | 0.00% |
| Canada Bay City Council | 100.00% | 0.00% | 0.00% |
| Canterbury-Bankstown Council | 98.06% | 0.65% | 1.29% |
| Carrathool Shire Council | 100.00% | 0.00% | 0.00% |
| Castlereagh Macquarie County Council | 100.00% | 0.00% | 0.00% |
| Central Coast Council | 98.02% | 1.65% | 0.33% |
| Central Darling Shire Council | 100.00% | 0.00% | 0.00% |
| Central Tablelands Water | 100.00% | 0.00% | 0.00% |
| Cessnock City Council | 100.00% | 0.00% | 0.00% |
| Clarence Valley Council | 98.33% | 0.00% | 1.67% |
| Cobar Shire Council | 100.00% | 0.00% | 0.00% |
| Coffs Harbour City Council | 95.74% | 2.13% | 2.13% |
| Coolamon Shire Council | 100.00% | 0.00% | 0.00% |
| Coonamble Shire Council | 100.00% | 0.00% | 0.00% |
| Cootamundra-Gundagai Regional Council | 100.00% | 0.00% | 0.00% |
| Cowra Shire Council | 92.86% | 7.14% | 0.00% |
| Cumberland Council | 100.00% | 0.00% | 0.00% |
| Dubbo Regional Council | 100.00% | 0.00% | 0.00% |
| Dungog Shire Council | 100.00% | 0.00% | 0.00% |
| Edward River Council | 100.00% | 0.00% | 0.00% |
| Eurobodalla Shire Council | 97.50% | 2.50% | 0.00% |
| Fairfield City Council | 99.11% | 0.89% | 0.00% |
| Federation Council | 100.00% | 0.00% | 0.00% |
| Forbes Shire Council | 100.00% | 0.00% | 0.00% |
| Georges River Council | 99.11% | 0.89% | 0.00% |
| Gilgandra Shire Council | 100.00% | 0.00% | 0.00% |
| Glen Innes Severn Council | 100.00% | 0.00% | 0.00% |
| Goulburn Mulwaree Council | 79.31% | 20.69% | 0.00% |
| Greater Hume Shire Council | 100.00% | 0.00% | 0.00% |
| Griffith City Council | 100.00% | 0.00% | 0.00% |
| Gunnedah Shire Council | 96.88% | 0.00% | 3.13% |
| Gwydir Shire Council | 100.00% | 0.00% | 0.00% |
| Hawkesbury City Council | 100.00% | 0.00% | 0.00% |
| Hay Shire Council | 100.00% | 0.00% | 0.00% |
| Hilltops Council | 100.00% | 0.00% | 0.00% |
| Hornsby Shire Council | 100.00% | 0.00% | 0.00% |
| Hunters Hill Council | 100.00% | 0.00% | 0.00% |
| Inner West Council | 100.00% | 0.00% | 0.00% |
| Inverell Shire Council | 100.00% | 0.00% | 0.00% |
| Junee Shire Council | 100.00% | 0.00% | 0.00% |
| Kempsey Shire Council | 100.00% | 0.00% | 0.00% |
| Kiama Municipal Council | 97.50% | 2.50% | 0.00% |
| Ku-Ring-Gai Council | 97.22% | 2.78% | 0.00% |
| Kyogle Council | 100.00% | 0.00% | 0.00% |
| Lachlan Shire Council | 100.00% | 0.00% | 0.00% |
| Lake Macquarie City Council | 99.09% | 0.91% | 0.00% |
| Lane Cove Council | 100.00% | 0.00% | 0.00% |
| Leeton Shire Council | 100.00% | 0.00% | 0.00% |
| Lismore City Council | 100.00% | 0.00% | 0.00% |
| Lithgow City Council | 100.00% | 0.00% | 0.00% |
| Liverpool City Council | 98.89% | 0.00% | 1.11% |
| Liverpool Plains Shire Council | 100.00% | 0.00% | 0.00% |
| Lockhart Shire Council | 100.00% | 0.00% | 0.00% |
| Maitland City Council | 100.00% | 0.00% | 0.00% |
| MidCoast Council | 100.00% | 0.00% | 0.00% |
| Mid-Western Regional Council | 100.00% | 0.00% | 0.00% |
| Moree Plains Shire Council | 100.00% | 0.00% | 0.00% |
| Mosman Council | 100.00% | 0.00% | 0.00% |
| Murray River Council | 100.00% | 0.00% | 0.00% |
| Murrumbidgee Council | 96.43% | 0.00% | 3.57% |
| Muswellbrook Shire Council | 100.00% | 0.00% | 0.00% |
| Nambucca Valley Council | 91.67% | 8.33% | 0.00% |
| Narrabri Shire Council | 100.00% | 0.00% | 0.00% |
| Narrandera Shire Council | 100.00% | 0.00% | 0.00% |
| Narromine Shire Council | 100.00% | 0.00% | 0.00% |
| Newcastle City Council | 99.12% | 0.00% | 0.88% |
| North Sydney Council | 93.94% | 3.03% | 3.03% |
| Northern Beaches Council | 97.96% | 0.00% | 2.04% |
| Oberon Council | 100.00% | 0.00% | 0.00% |
| Orange City Council | 100.00% | 0.00% | 0.00% |
| Parkes Shire Council | 100.00% | 0.00% | 0.00% |
| Parramatta Council | 95.60% | 4.40% | 0.00% |
| Penrith City Council | 100.00% | 0.00% | 0.00% |
| Port Macquarie-Hastings Council | 100.00% | 0.00% | 0.00% |
| Port Stephens Council | 100.00% | 0.00% | 0.00% |
| Queanbeyan-Palerang Regional Council | 100.00% | 0.00% | 0.00% |
| Randwick City Council | 97.73% | 2.27% | 0.00% |
| Richmond Tweed Regional Library | 100.00% | 0.00% | 0.00% |
| Richmond Valley Council | 95.24% | 0.00% | 4.76% |
| Rous County Council | 100.00% | 0.00% | 0.00% |
| Ryde City Council | 100.00% | 0.00% | 0.00% |
| Shellharbour City Council | 92.98% | 7.02% | 0.00% |
| Shoalhaven City Council | 98.89% | 1.11% | 0.00% |
| Singleton Council | 100.00% | 0.00% | 0.00% |
| Snowy Monaro Regional Council | 100.00% | 0.00% | 0.00% |
| Snowy Valleys Council | 100.00% | 0.00% | 0.00% |
| Strathfield Council | 100.00% | 0.00% | 0.00% |
| Sutherland Shire Council | 99.19% | 0.81% | 0.00% |
| Tamworth Regional Council | 97.73% | 2.27% | 0.00% |
| Temora Shire Council | 100.00% | 0.00% | 0.00% |
| Tenterfield Shire Council | 100.00% | 0.00% | 0.00% |
| The Hills Shire Council | 100.00% | 0.00% | 0.00% |
| Tweed Shire Council | 97.96% | 0.00% | 2.04% |
| Upper Hunter Shire Council | 100.00% | 0.00% | 0.00% |
| Upper Lachlan Shire Council | 100.00% | 0.00% | 0.00% |
| Upper Macquarie County Council | 100.00% | 0.00% | 0.00% |
| Uralla Shire Council | 88.89% | 11.11% | 0.00% |
| Wagga Wagga City Council | 100.00% | 0.00% | 0.00% |
| Walcha Council | 100.00% | 0.00% | 0.00% |
| Walgett Shire Council | 100.00% | 0.00% | 0.00% |
| Warren Shire Council | 100.00% | 0.00% | 0.00% |
| Warrumbungle Shire Council | 100.00% | 0.00% | 0.00% |
| Waverley Council | 100.00% | 0.00% | 0.00% |
| Weddin Shire Council | 100.00% | 0.00% | 0.00% |
| Wentworth Shire Council | 100.00% | 0.00% | 0.00% |
| Willoughby City Council | 100.00% | 0.00% | 0.00% |
| Wingecarribee Shire Council | 100.00% | 0.00% | 0.00% |
| Wollondilly Shire Council | 100.00% | 0.00% | 0.00% |
| Woollahra Municipal Council | 100.00% | 0.00% | 0.00% |
| Yass Valley Shire Council | 90.00% | 10.00% | 0.00% |
| Grand Total | 98.36% | 1.23% | 0.41% |