Virgin and aviation companies today joined unions representing tens of thousands of workers in a fresh appeal to the Prime Minister to implement 'AviationKeeper', an extension to JobKeeper for all aviation workers beyond March.
The 14 signatories to the letter first campaigned for AviationKeeper support in a previous letter to the Prime Minister on 7 July 2020. A few weeks later, the Federal Government extended JobKeeper beyond September to March 2021.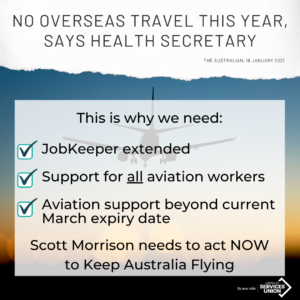 This fresh appeal follows warnings this week from Health Department Secretary Professor Brendan Murphy that international border closures will most likely remain until 2022.
Have you signed our petition for AviationKeeper?
Make sure you sign now and let the Government know they need to support YOU!
Go to: www.megaphone.org.au/p/aviationkeeper
The aviation group is calling on the Prime Minister to consider the unique challenges and great importance of keeping our aviation industry going and skilled workers connected to their employers.
Over the last 12 months, at least 11,000 aviation workers have been made redundant. A further 2,500 ground handling and cleaning workers have been axed and outsourced by Qantas.
Thousands of aviation workers were excluded from the JobKeeper scheme because of last-minute changes by the Federal Government precluding workers whose companies are owned by foreign governments.
The Transport Workers' Union, Australian Services Union and others joined companies across the industry such as Virgin, Dnata, Menzies, Gate Gourmet, and Swissport in an effort to secure wages while aviation remains crippled.
The letter calls on the Prime Minister to extend JobKeeper to all aviation workers and phase it out when "domestic and international borders are phased open, confidence in aviation returns and flying returns to normal".
It acknowledges the unique position of aviation as a critical industry to business and tourism, while being one of the hardest hit by the pandemic: "A strong aviation industry will be critical to the long-term economic recovery. While border closures will mean that it is one of the last industries to return to pre COVID-19 levels, its ability to bounce back will depend greatly on the support the industry is given today."
TWU Assistant National Secretary Nick McIntosh said the Government must act quickly to ensure our critical aviation industry remains intact and retains its highly trained, skilled workforce.
"The loss of skilled workers in the aviation industry has already been colossal. Thousands of families have been left jobless and thousands more are looking to another year of uncertainty, made worse by the impending termination of JobKeeper.
"For aviation, this year began in the same manner as the height of last year's lockdowns, with both international and domestic borders closed. It makes no sense to remove the wage subsidy lifeline that has kept aviation businesses going and assisted many workers to keep their jobs and pay their bills while planes are grounded," McIntosh said.
"Last year, Transport Minister Michael McCormack called on states to open their borders, proclaiming that 'planes in the air means jobs on the ground'. The Federal Government's lack of a plan has resulted in the opposite – planes on the ground and jobs up in the air. There's been enough hot air. We need a plan to keep aviation going while borders remain shut otherwise more jobs will be lost, which would be devastating for working families, tourism and the economy's ability to recover.
"The aviation industry has endorsed AviationKeeper as a strong solution. We invite the Morrison Government to discuss this plan with us now, before the fast-approaching cut off from JobKeeper," McIntosh continued.
ASU Assistant National Secretary Emeline Gaske said workers are distressed over their uncertain futures.
"Our members have been to hell and back over the last year, and 2021 looks no more promising. If borders are to remain closed, JobKeeper is to end, and banks are to finish up the mortgage holidays, how does the Prime Minister expect aviation workers to survive?
"Millions of businesses, jobs and livelihoods depend on aviation. It will take time for demand to return, but when it does Australia will need a strong aviation industry ready to fly. That requires a skilled, experienced workforce to put planes back in the sky," Gaske said.
A TWU survey in September showed almost 60% of aviation workers were experiencing financial hardship. A further 60% were experiencing depression and anxiety, with some sharing that they'd had suicidal thoughts.