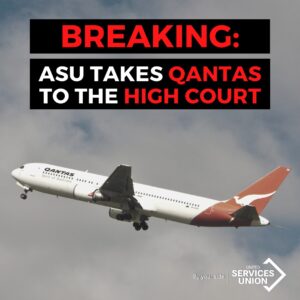 Today our national union the ASU is filing a case against Qantas in the High Court of Australia on behalf of members across Australia. That includes you. 
We're arguing that for over 10 months Qantas have been misusing JobKeeper and pocketing your penalties. This is just plain wrong.
Union members fought long and hard to win penalty rates.
We work hard, often unsociable hours which keeps us away from our families and in routines not familiar to most workers. This isn't easy but we are compensated for this lost time through penalties, which we have fought for and earned.
Yet Qantas are trying to dodge paying these penalty rates fairly.
When COVID-19 hit the USU/ASU fought for a wage subsidy for our aviation industry and to Keep Australia Flying. The Australian Government created JobKeeper with the aim of retaining jobs, and keeping workers and their employers afloat during this crisis.
Instead, Qantas are pocketing taxpayer money and rorting workers of their hard-earned penalties. We are arguing that Qantas employees, already doing it tough through this pandemic have been robbed of thousands of dollars of wages by the company.
Well, we are standing up and saying NO.
Already, we have taken Qantas to court and won. But Qantas appealed. So now we are going to the highest court in the country to keep Qantas and all employers accountable.
JobKeeper must be paid fairly.
Qantas must do the right thing and pay their workers fairly.
We can come out of this crisis but we need companies like Qantas to do the right thing so that when we are ready to fly, workers are there to Keep Australia Flying.
By your side